Copiapoa humilis is a fascinating succulent that originates from the arid regions of Chile. This cactus is renowned for its unique adaptations, mesmerizing appearance, and ability to thrive in hostile environments. In this comprehensive care guide, we will explore the natural habitat of Copiapoa humilis, its distinct characteristics, growth requirements, propagation methods, common problems, and more. Whether you're a seasoned cactus enthusiast or a beginner looking to add a touch of elegance to your garden, this guide will provide you with valuable insights to successfully cultivate and care for the Copiapoa humilis.
Dig in!
Natural Habitat and Common Names
Copiapoa humilis is native to the coastal deserts of northern Chile, specifically the regions of Atacama and Coquimbo. It is well-adapted to survive in the harsh conditions of the Atacama Desert, one of the driest places on Earth. This cactus is commonly referred to as the "Mother's Cushion" due to its rounded, compact shape resembling a cushion. The name "Silver Ball Cactus" comes from its silver-gray coloration and spherical form.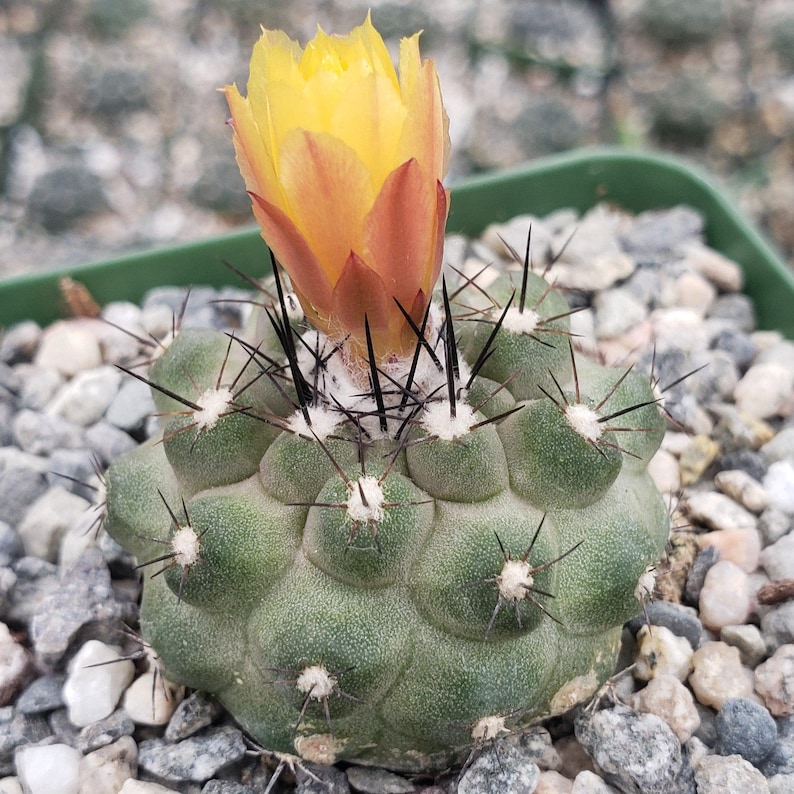 Source: Etsy
Unique Adaptations and Special Features
Copiapoa humilis possesses several unique adaptations that differentiate it from other succulents and enable it to survive in its specific environment. One of its remarkable adaptations is its ability to form dense clusters, which provides protection against extreme temperatures and reduces water loss through transpiration. Additionally, the plant has a thick, waxy coating on its skin that helps prevent moisture evaporation and protects it from intense sunlight.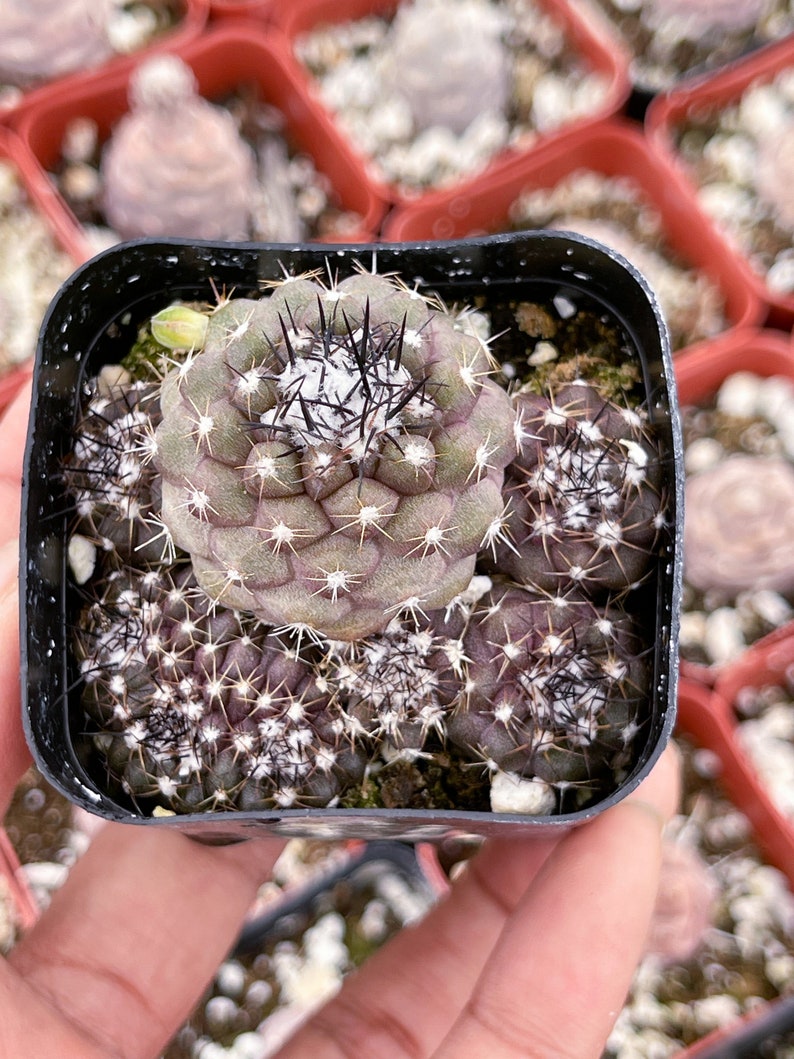 Source: Etsy
Distinctive Characteristics and Growth
Copiapoa humilis is a small-sized cactus that typically grows up to 4-6 inches (10-15 cm) in height and 4-6 inches (10-15 cm) in diameter. It features a globular shape with a slightly flattened top and numerous ribs that are covered in sharp spines.
The cactus has a silver-gray or bluish-green coloration, sometimes purplish, which contributes to its aesthetic appeal and provides protection against intense sunlight. Over time, it may develop a woody base.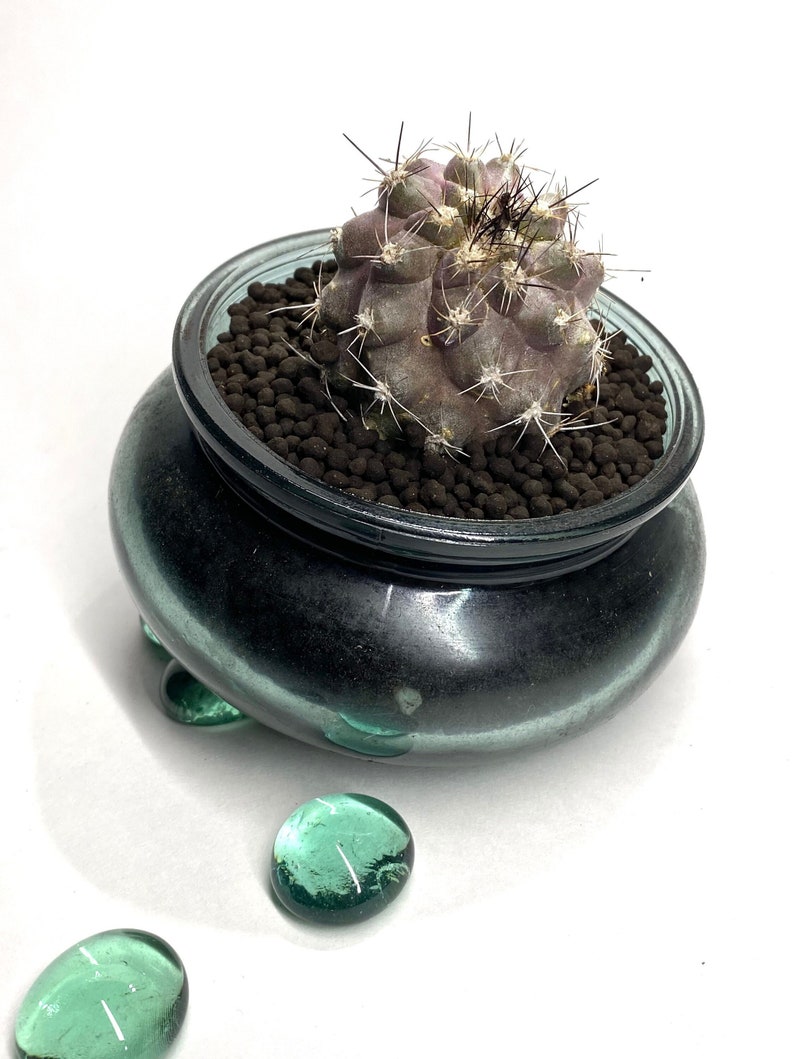 Source: Etsy
Flowers and Blooming
The flowers of Copiapoa humilis are a delightful sight. They are small in size, typically measuring around 1 inch (2.5 cm) in diameter. The colors of the flowers can vary, but they often range from shades of yellow to orange. Copiapoa humilis is known for its ability to produce vibrant blooms, which usually appear in late spring or early summer. The trigger for blooming is often linked to seasonal changes, temperature fluctuations, and the availability of sufficient moisture.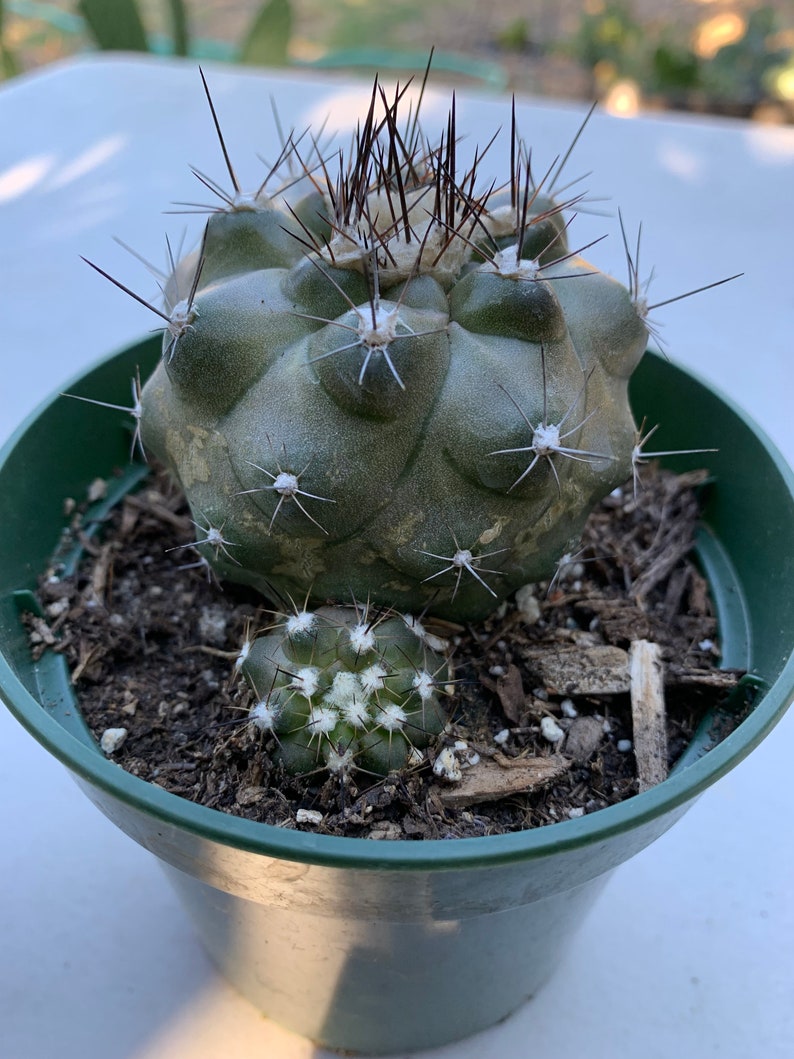 Source: Etsy
Growth Rate and Season
Copiapoa humilis is a slow-growing cactus, with an average growth rate of about 1 inch (2.5 cm) per year. Its growth is primarily observed during the warmer months of spring and summer when temperatures are more favorable. During the colder months, the growth rate slows down significantly, and the plant may enter a dormant phase.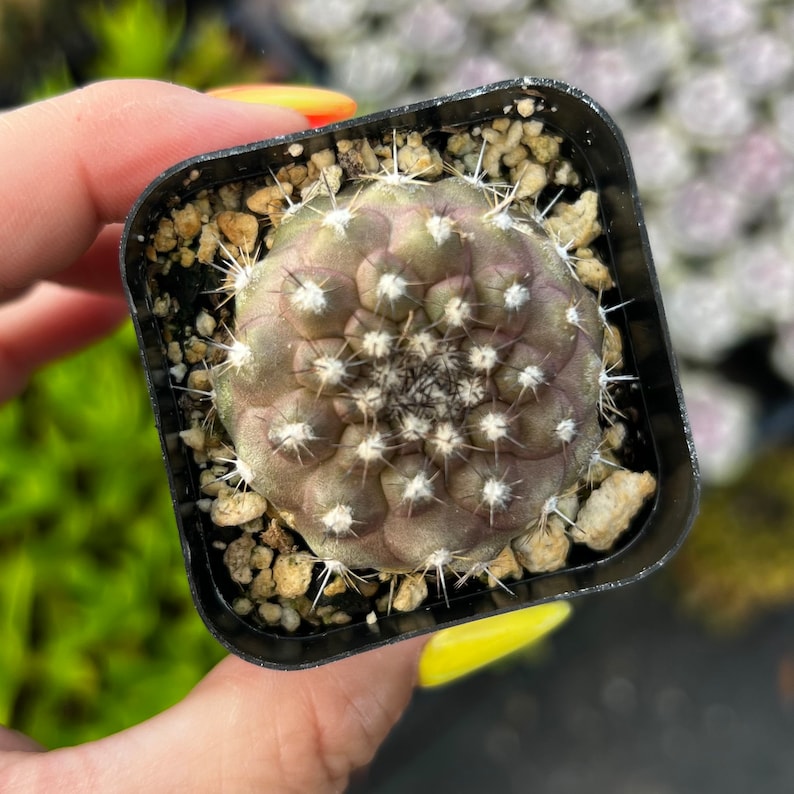 Source: Etsy
Light Requirements and Cold Hardiness
Copiapoa humilis thrives in bright, indirect light. It prefers a location where it can receive at least 4-6 hours of sunlight per day. However, it is important to protect the plant from intense midday sun, as it can scorch the delicate tissues. In terms of cold hardiness, Copiapoa humilis can tolerate temperatures down to 20°F (-6°C), making it suitable for outdoor cultivation in mild and Mediterranean climates.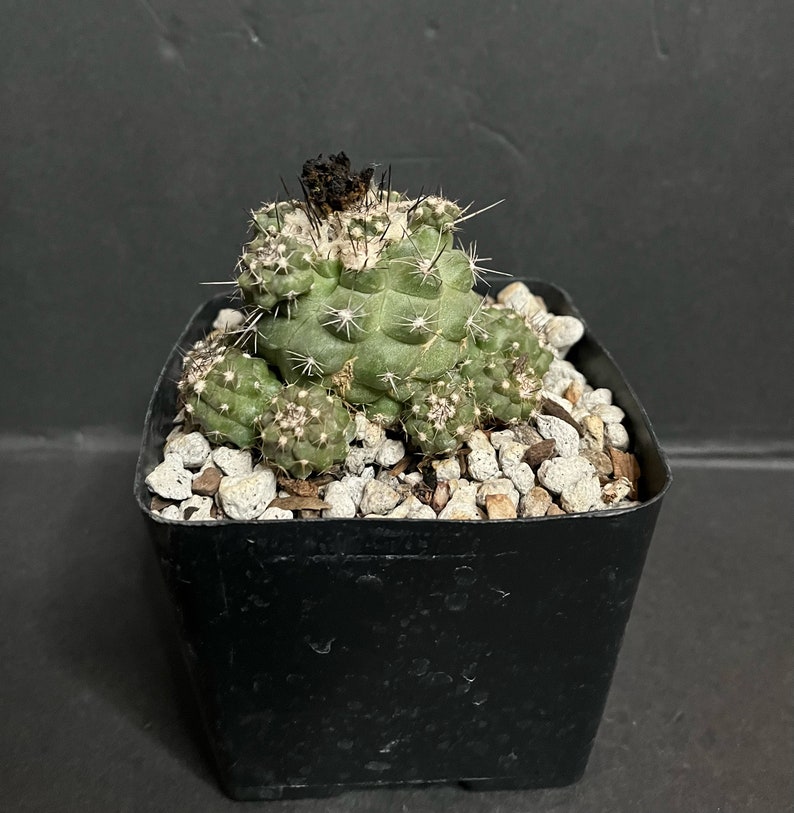 Source: Etsy
Watering and Care
Proper watering is essential for the health of Copiapoa humilis. As a desert cactus, it is adapted to survive in arid conditions and is highly drought-tolerant. It is crucial to allow the soil to dry out completely between watering sessions to prevent root rot. During the active growing season (spring and summer), watering once every 2-3 weeks is generally sufficient. In contrast, during the dormant period (fall and winter), it is advisable to reduce watering to once a month or even less, as the plant requires minimal moisture during this time.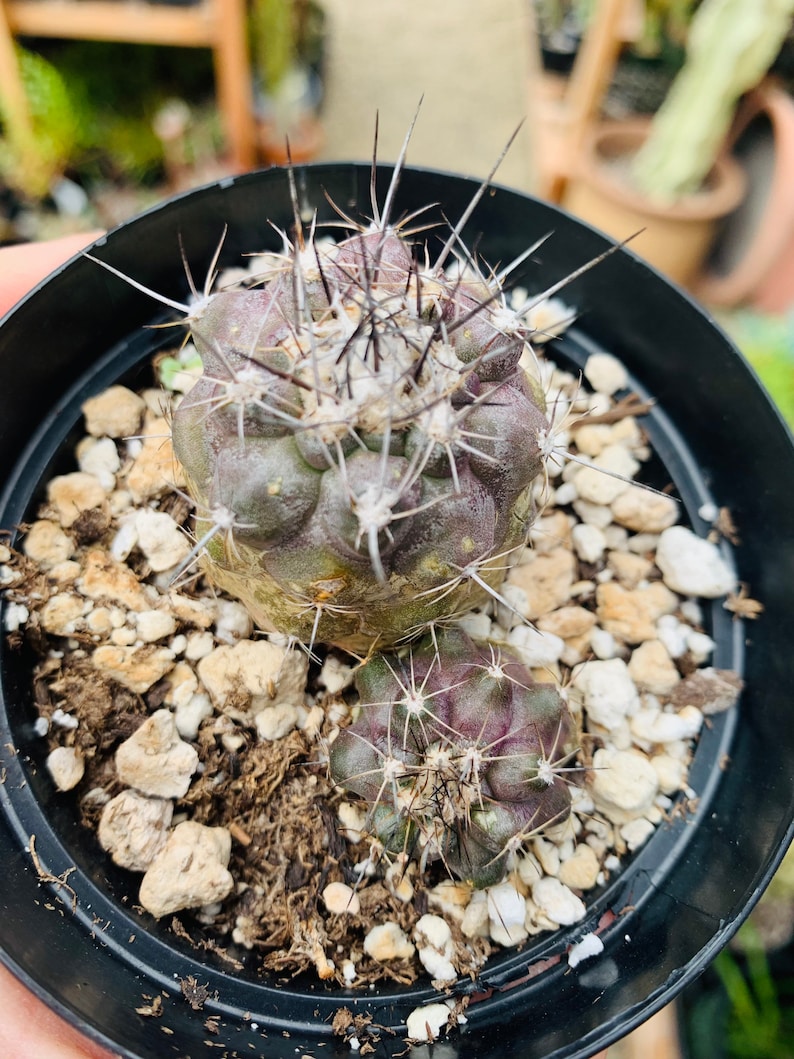 Source: Etsy
Temperature Tolerance and Rain Exposure
Copiapoa humilis can withstand temperatures as low as 20°F (-6°C). However, it is advisable to provide some protection during extreme cold spells, such as using frost cloth or moving the plant indoors. While this cactus is adapted to survive in arid conditions, it is not accustomed to heavy rainfall. Excessive moisture can lead to root rot and other fungal diseases. Therefore, it is best to keep the plant sheltered from prolonged rain or provide adequate drainage to prevent waterlogging.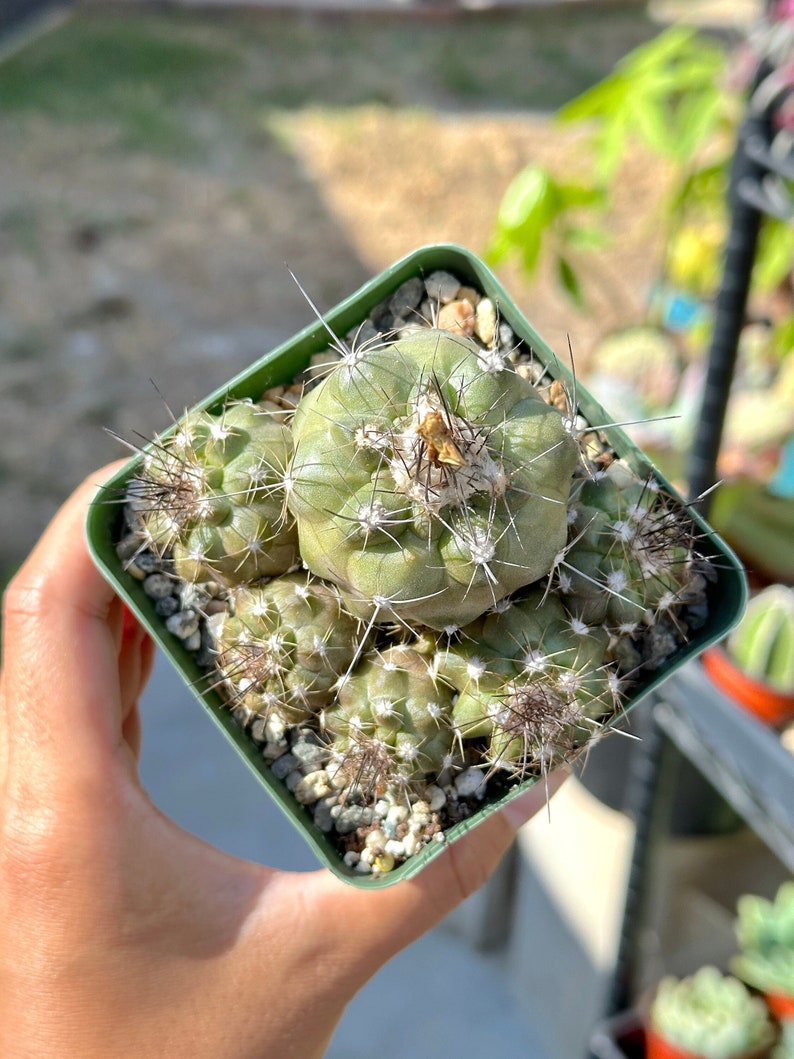 Source: Etsy
Fertilization
Copiapoa humilisdoes not require frequent fertilization. In its natural habitat, it relies on the nutrient-poor desert soil. However, if you choose to fertilize your cactus, it is recommended to use a diluted, balanced fertilizer specifically formulated for cacti and succulents. During the active growing season, you can apply the fertilizer once every 2-3 months. It is essential to follow the instructions on the fertilizer packaging and avoid over-fertilizing, as excessive nutrients can harm the plant.
Copiapoa humilis Propagation and Pruning
Pruning is generally not necessary for Copiapoa humilis. However, if you notice any damaged or diseased parts, you can remove them with a sterilized cutting tool. Take caution while handling the cactus due to its spines, and always wear protective gloves.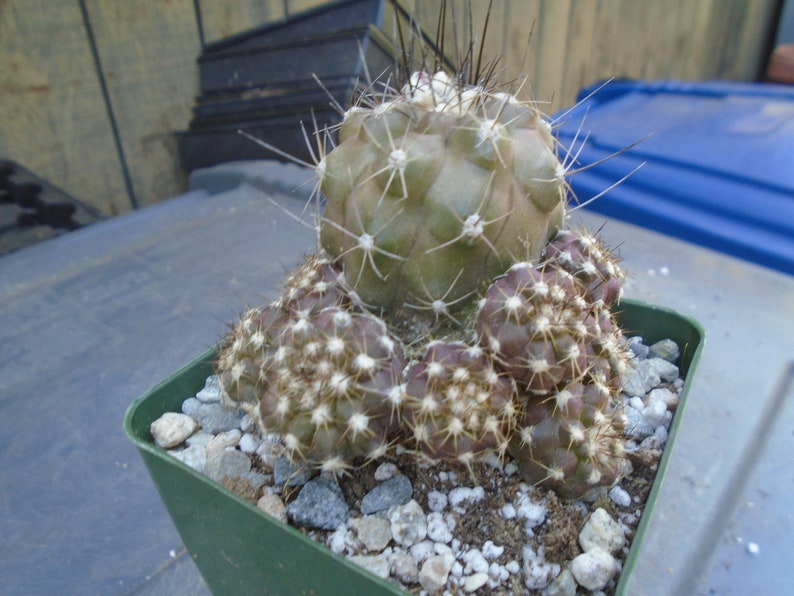 Copiapoa humilis can be propagated through various methods, including seed propagation, offsets, and grafting. The most common and straightforward method is through offsets, also known as "pups" or "chicks." These small, independent plants develop around the base of the mature cactus. To propagate using offsets, carefully remove them from the parent plant and allow them to dry for a few days. Once dried, plant them in well-draining cactus soil and provide appropriate care.
Source: Etsy
Common Problems and Pests
One common problem encountered with Copiapoa humilis is overwatering, which can lead to root rot and other fungal infections. To avoid this, ensure that the soil is completely dry before watering and that the pot has adequate drainage.
As for pests, Copiapoa humilis is relatively resistant to most common succulent pests. However, it may occasionally attract mealybugs or scale insects. Regularly inspect the plant for any signs of infestation, such as white cottony masses or small, immobile bumps on the stems. If detected, treat the affected areas with a solution of diluted neem oil or rubbing alcohol, taking care to follow the instructions and avoid excessive application.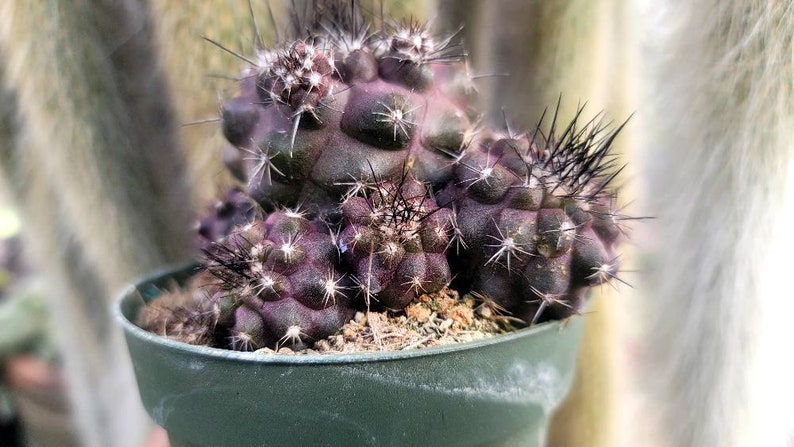 Source: Etsy
Indoor Cultivation and Toxicity
Copiapoa humilis can be successfully grown indoors, given the right conditions. Choose a bright location near a window where the cactus can receive sufficient indirect sunlight. Ensure good air circulation and avoid placing it near drafts or heating vents. Indoor humidity levels are generally suitable, but it is crucial to provide well-draining soil and avoid overwatering.
In terms of toxicity, Copiapoa humilis is not known to be toxic to cats, dogs, or humans. However, it is always advisable to keep any plant out of reach of pets and small children to prevent accidental ingestion.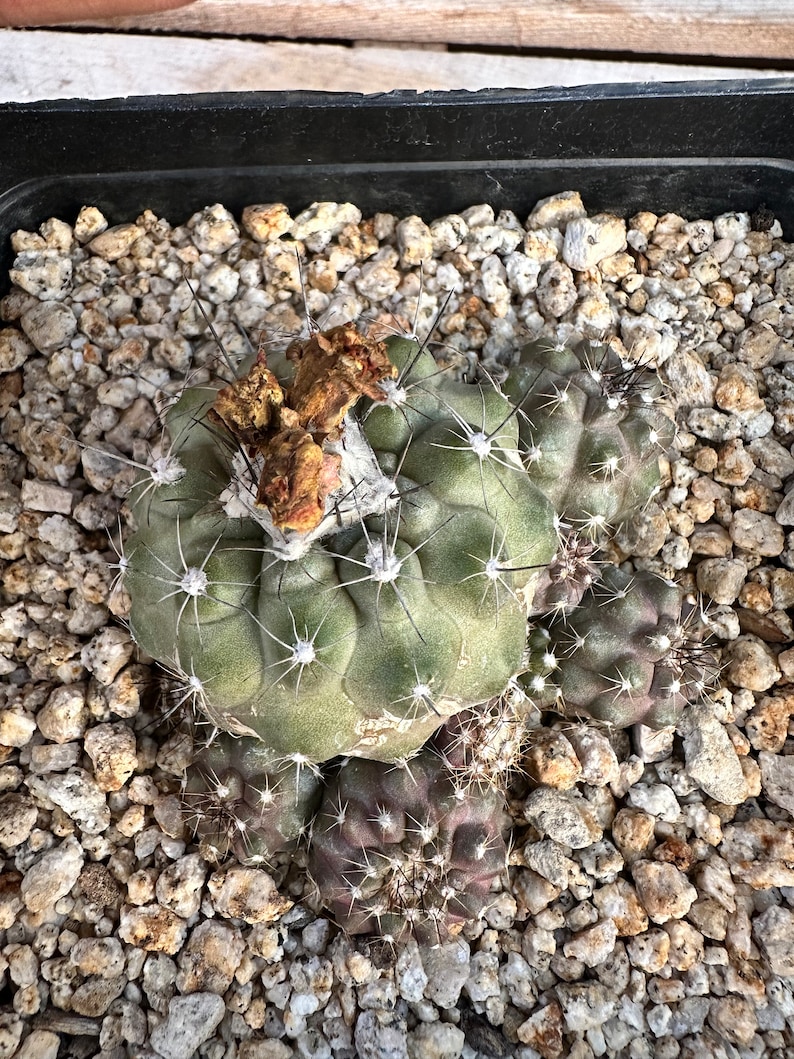 Source: Etsy
Dormancy and Signs
Copiapoa humilis enters a dormant phase during the fall and winter months. Signs of dormancy include a slower growth rate, reduced water requirements, and a possible change in coloration. The plant may appear slightly paler or duller during this period. It is essential to adjust your care routine accordingly and refrain from fertilizing or overwatering during dormancy.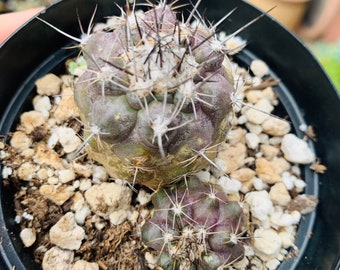 Source: Etsy
Etymology of the Name
The name "Copiapoa" is derived from the region where the cactus is found, specifically the Copiapó Province in Chile. The term "humilis" is a Latin word meaning "low" or "humble," referring to the cactus's small stature and unassuming appearance.
Copiapoa humilis, or the Mother's Cushion/Silver Ball Cactus, is a captivating succulent that thrives in the arid regions of Chile. Its unique adaptations, striking appearance, and relatively low maintenance requirements make it an excellent choice for cactus enthusiasts. By providing the right conditions, including ample sunlight, well-draining soil, and proper watering, you can enjoy the beauty of this cactus in your garden or indoor space. Remember to respect its dormancy period, protect it from extreme cold and rain, and address any potential issues promptly. With proper care and attention, your Copiapoa humilis will reward you with its stunning blooms and enduring charm.