Crassula muscosa, commonly known as the 'Watch Chain Crassula,' is a unique and attractive succulent that belongs to the Crassulaceae family. This species of succulent is native to South Africa and is known for its cascading chain-like growth pattern, which gives it the name 'Watch Chain.' In this blog post, we will discuss in detail the growth, care, and propagation of Crassula muscosa 'Watch Chain'.
Jump to:
Description and Appearance
Crassula muscosa 'Watch Chain' is a small succulent plant that usually grows up to 6 inches (15 cm) tall and 12 inches (30 cm) wide. It has a branching and spreading growth habit, which produces long chains of small green leaves that resemble beads on a string. The leaves are triangular, about 0.5 inches (1.3 cm) long and 0.3 inches (0.8 cm) wide, and are covered with fine white hairs. When exposed to bright sunlight, the leaves of Crassula muscosa 'Watch Chain' turn reddish-brown at the tips, adding to the succulent's overall appeal.
Growth and Care
Crassula muscosa 'Watch Chain is an easy-to-grow succulent that thrives in a well-draining soil mix and requires minimal care. Here are some growth and care tips for the Watch Chain Crassula:
Lighting Needs
Proper lighting is an essential aspect of growing and caring for Crassula muscosa 'Watch Chain'. This succulent prefers to be placed in a bright location that receives at least 4-6 hours of sunlight a day. Bright light or filtered sunlight provides Crassula muscosa 'Watch Chain' with the energy it needs to photosynthesize and grow. However, it is important to note that the succulent should not be exposed to direct sunlight for extended periods.
Direct sunlight can cause the leaves of Crassula muscosa 'Watch Chain' to burn and turn brown, Sunburn is characterized by brown or yellow spots on the leaves, and if left unchecked, it can lead to the death of the succulent. To avoid sunburn, it is recommended to place Crassula muscosa 'Watch Chain' in an area that receives indirect sunlight, such as near a window with a sheer curtain.
Another way to protect Crassula muscosa 'Watch Chain' from direct sunlight is by using a shade cloth or other types of shade covers. Shade cloths help to filter the intensity of the sunlight, preventing the succulent from being exposed to harmful rays. During the hot summer months, when the sun's intensity is high, it is essential to use shade cloths to protect the succulent from sunburn.
Lighting needs of Crassula muscosa 'Watch Chain' can vary depending on the time of year and the succulent's location. During the winter months, when the sunlight is weaker, it may be necessary to move the succulent closer to a window or to supplement its lighting with grow lights. In contrast, during the summer months, Crassula muscosa 'Watch Chain' may benefit from being moved to a shadier location to avoid overexposure to direct sunlight.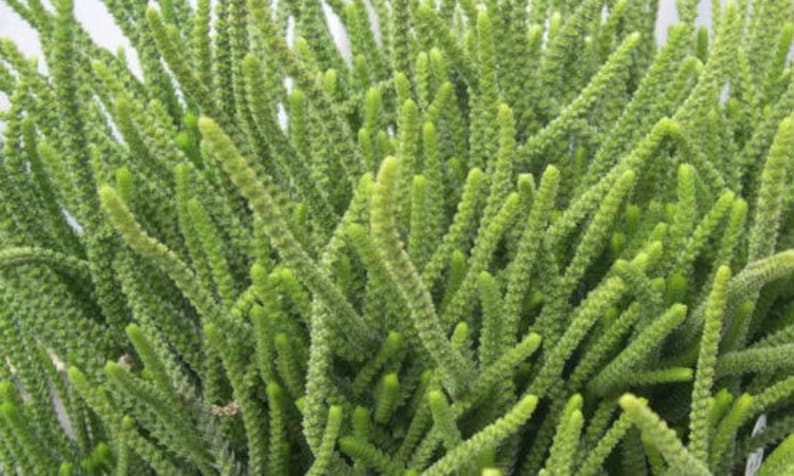 Source: Etsy
Watering Crassula muscosa 'Watch Chain'
Crassula muscosa 'Watch Chain' should be watered only when the soil is completely dry. It is recommended to water the succulent thoroughly, ensuring that the water reaches the roots. After watering, allow the soil to drain completely and remove any excess water that may have collected in the saucer or pot's bottom.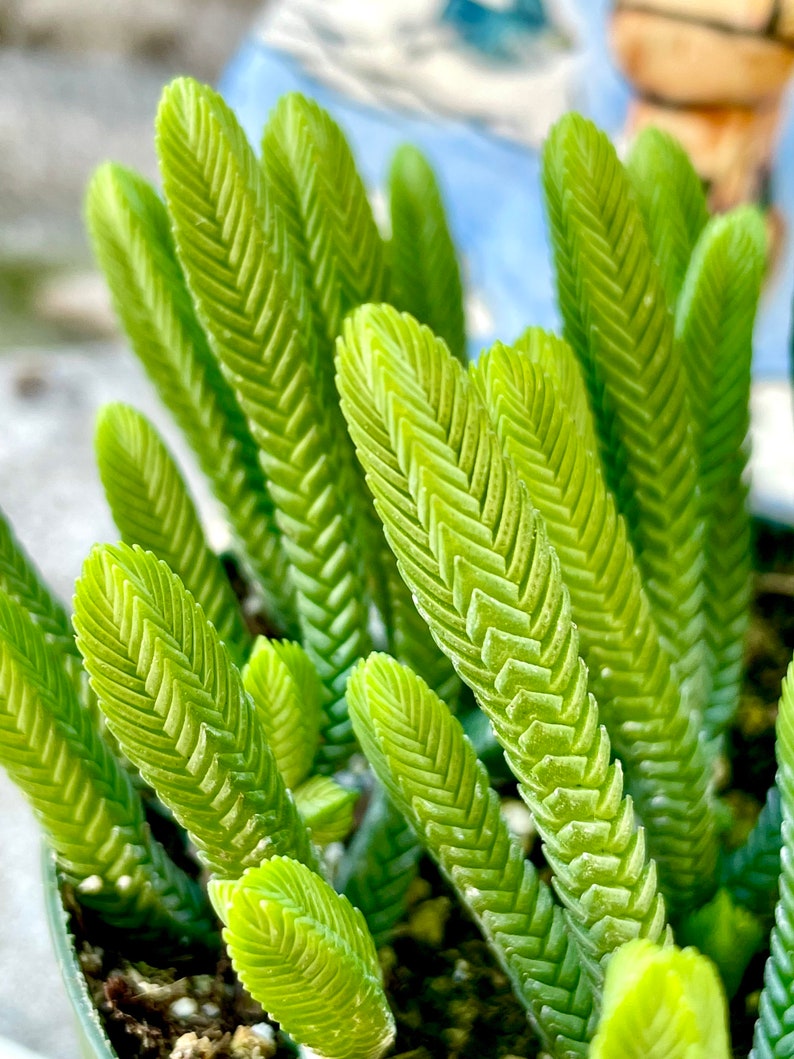 Source: Etsy
-How to Tell When Crassula muscosa 'Watch Chain' Needs Water
It is harder to tell when 'Watch Chain' needs watering since the leaves aren't plump and don't show obvious signs of dehydration. Since it is better to keep them on the dry side, I'll water only when the soil is super dry and the pot weighs less than it does when it has just been watered. 
It is essential to avoid leaving the succulent in standing water, as this can lead to the roots' saturation and eventual rot. A well-draining potting mix can help to prevent water from accumulating in the soil and promote healthy root growth.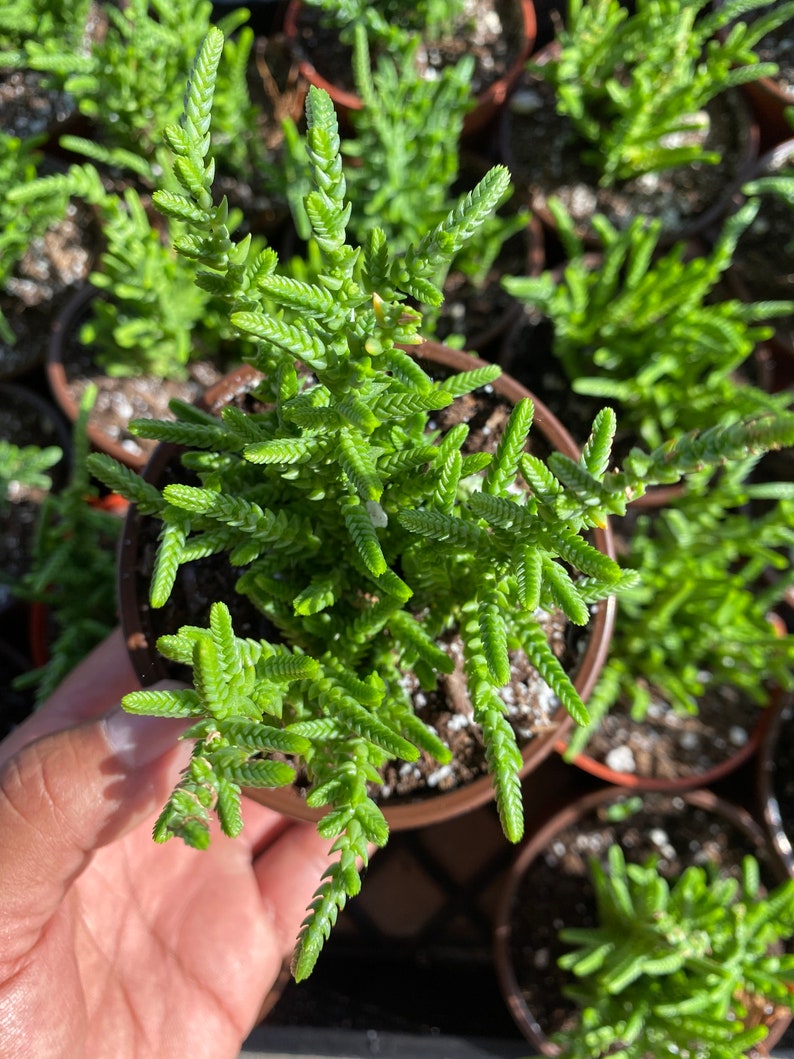 Source: Etsy
With consistently wet soil, Crassula muscosa will not get the oxygen it needs and cannot properly use the nutrients. This results in slow, weak growth. As you scale back on watering and improve drainage, growth should become more vigorous.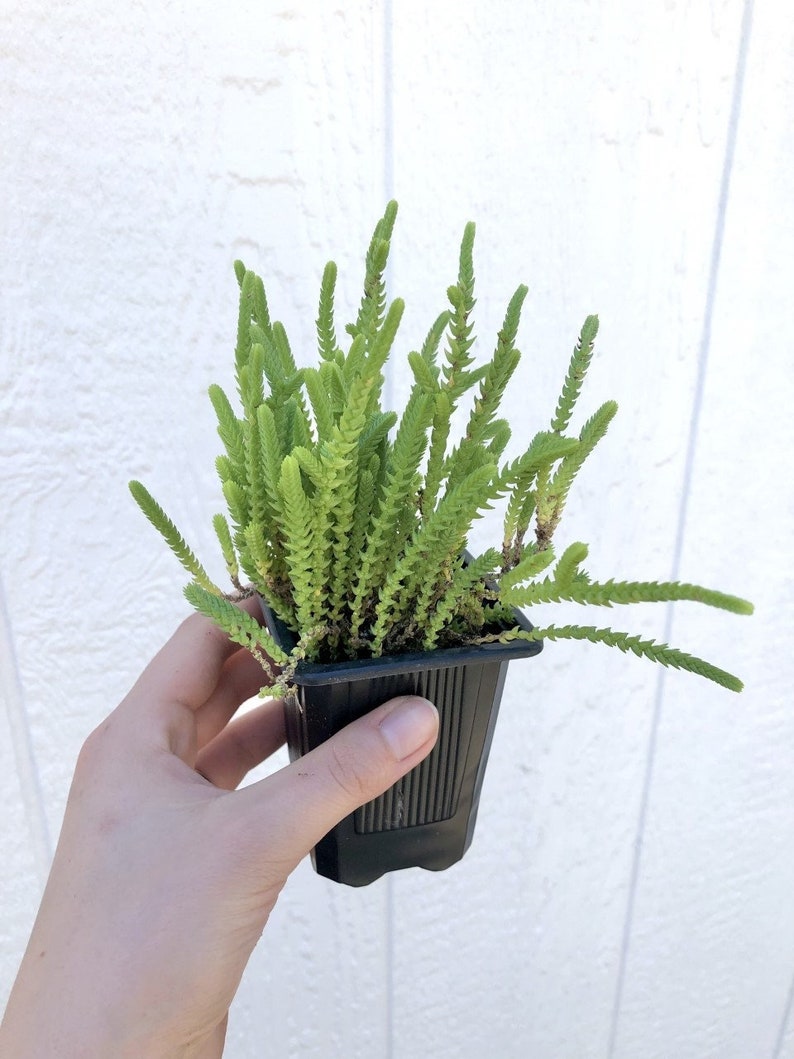 Source: Etsy
The watering needs of Crassula muscosa 'Watch Chain' can vary depending on several factors, including the succulent's size, location, and the temperature and humidity of the environment. During the summer months, when the temperature is high and the air is dry, the succulent may require more frequent watering. In contrast, during the winter months, when the temperature is lower and the air is moister, the succulent may require less water.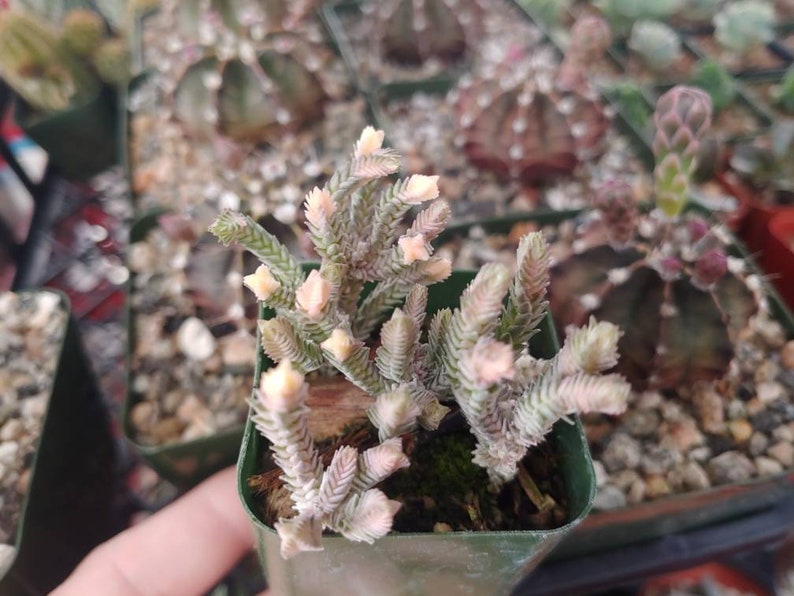 'Variegated Watch Chain Crassula' Source: Etsy
'Watch Chain' Crassula can go for extended periods without water, making it an ideal choice for busy gardeners or those who may forget to water their plants regularly. As such, it is essential to avoid overwatering the succulent and let the soil dry out completely before watering it again.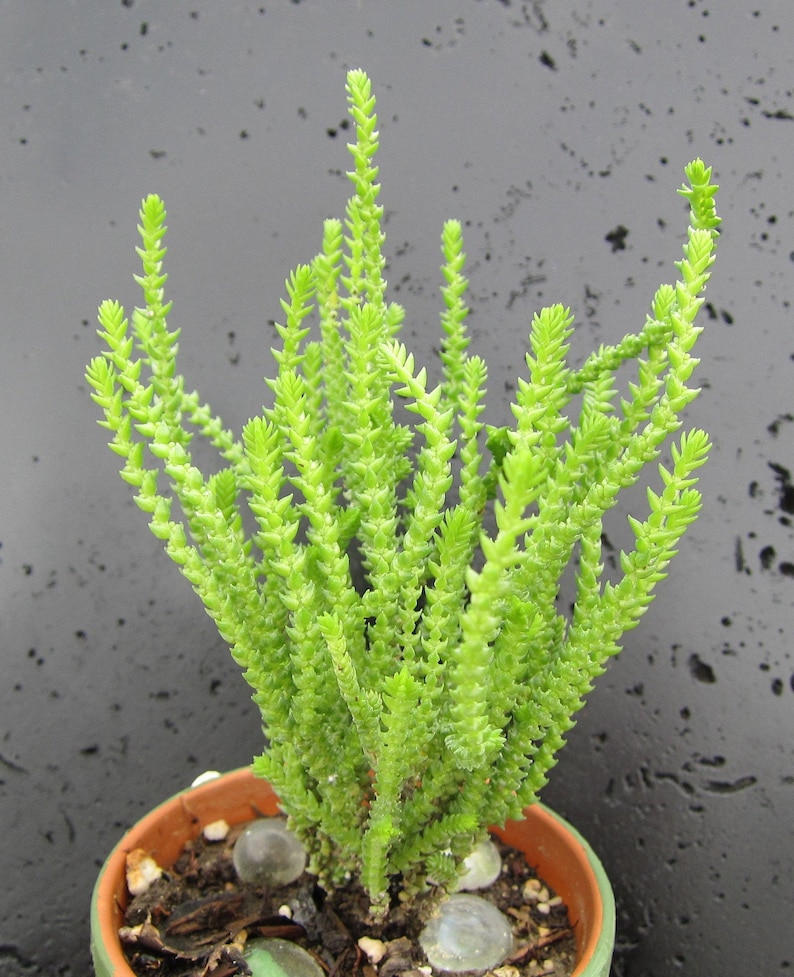 Source: Etsy
Why is my Crassula muscosa drying out?
There could be a few reasons yours is drying out.
Insufficient Light: Proper lighting is crucial for the well-being of your watch chain plant. Crassula muscosa thrives in bright, indirect light. If your plant is not receiving enough light, its leaves may dry out. To remedy this, relocate your plant to a spot with better lighting conditions, allowing it to receive the optimal amount of sunlight it needs.
Low Humidity: Maintaining adequate humidity levels is essential for Crassula muscosa's overall health. These plants thrive in environments with around 50% humidity. Dry air, particularly from sources like heaters, can lead to leaf dehydration. Consider using a pebble tray or a humidifier to increase humidity levels and create a more favorable environment for your succulent.
Drafts and Vents: Exposure to drafts and direct airflow from sources like vents, windows, or doors can contribute to the drying out of your plant's leaves. To prevent this, ensure that your watch chain plant is positioned away from these sources of airflow. By protecting your plant from temperature fluctuations caused by drafts, you can help maintain its leaf moisture.
Soil Conditions: The condition of the soil in which your Crassula muscosa is planted plays a crucial role in its well-being. To prevent dry leaves, check if the drainage holes of the pot are clear and unobstructed. Additionally, make sure the soil has excellent drainage to prevent water from accumulating around the roots. Repotting your plant into a well-draining potting mix can help improve its water absorption and overall health. If you roots can't absorb nutrients efficiently, the succulent will pull more and more from its energy stores in its leaves therefor drying them out.
Pest Infestations: Pests like mealybugs and spider mites can contribute to leaf drying by sapping moisture from the leaves. Regularly inspect your watch chain plant for signs of pest infestations, such as discolored or damaged leaves. If you detect any pests, take swift action to address the issue using appropriate remedies to protect your plant's health.
Temperature Fluctuations: Rapid shifts in temperature caused by heating or air conditioning systems can shock your Crassula muscosa. This shock can result in dry leaves and other signs of stress. To maintain a stable environment for your plant, avoid exposing it to extreme temperature fluctuations. Consistent temperatures can help your watch chain plant thrive and reduce the risk of leaf dehydration.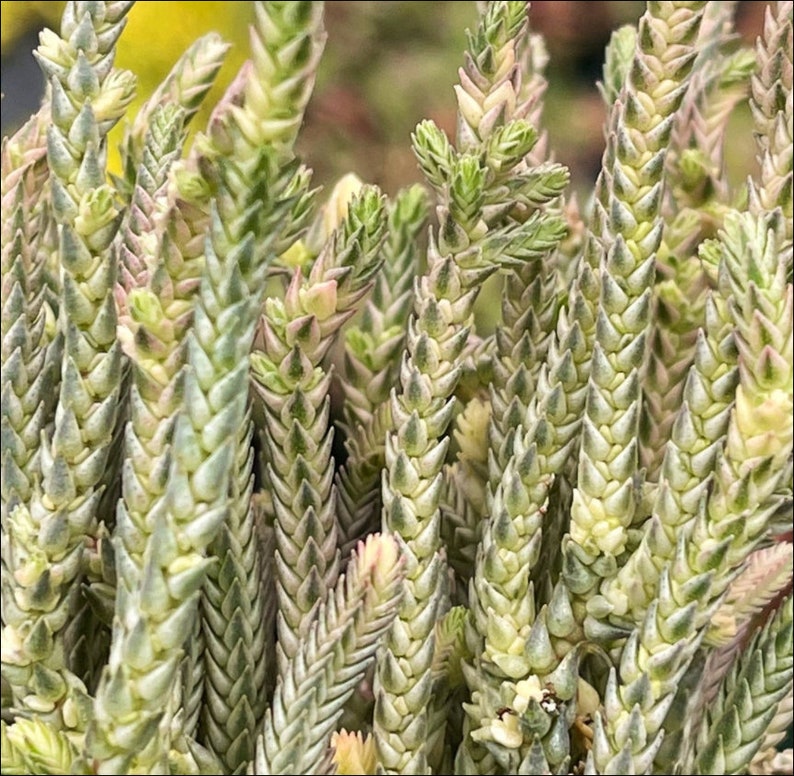 Source: Etsy
Recommended Soil Conditions
A recommended soil mix for Crassula muscosa 'Watch Chain' is a combination of cactus soil and perlite or sand. The cactus soil provides the succulent with the necessary nutrients and organic matter it needs to thrive, while the perlite or sand helps to promote soil drainage.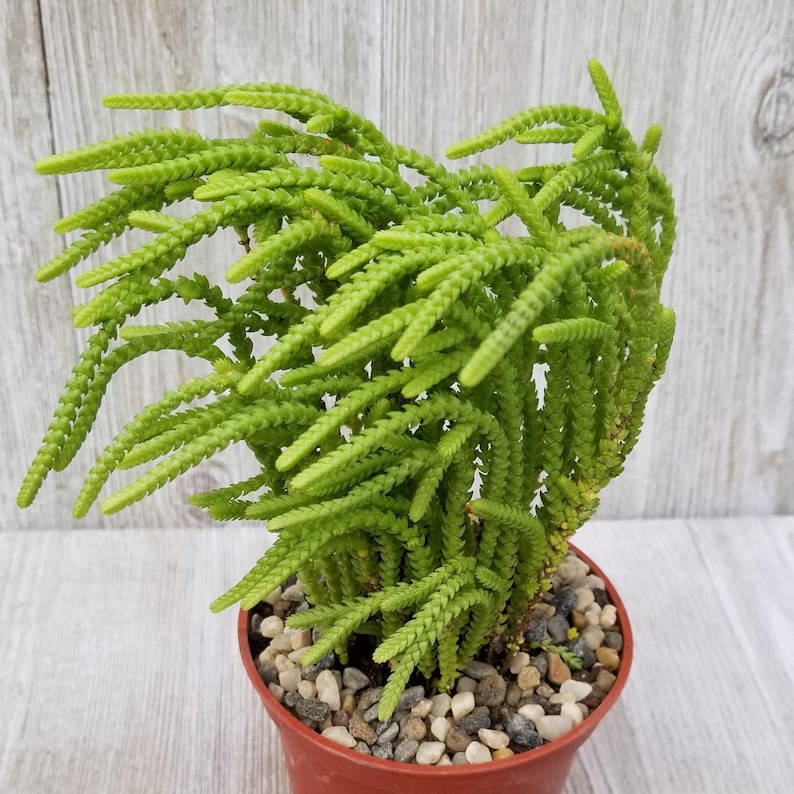 Source: Etsy
Cactus soil is a soil mix designed specifically for succulents and cacti. It is formulated to provide excellent drainage and contains a high proportion of sand and other inorganic materials, which help to prevent water retention. You can always mix your own soil and amendments based on personal preference.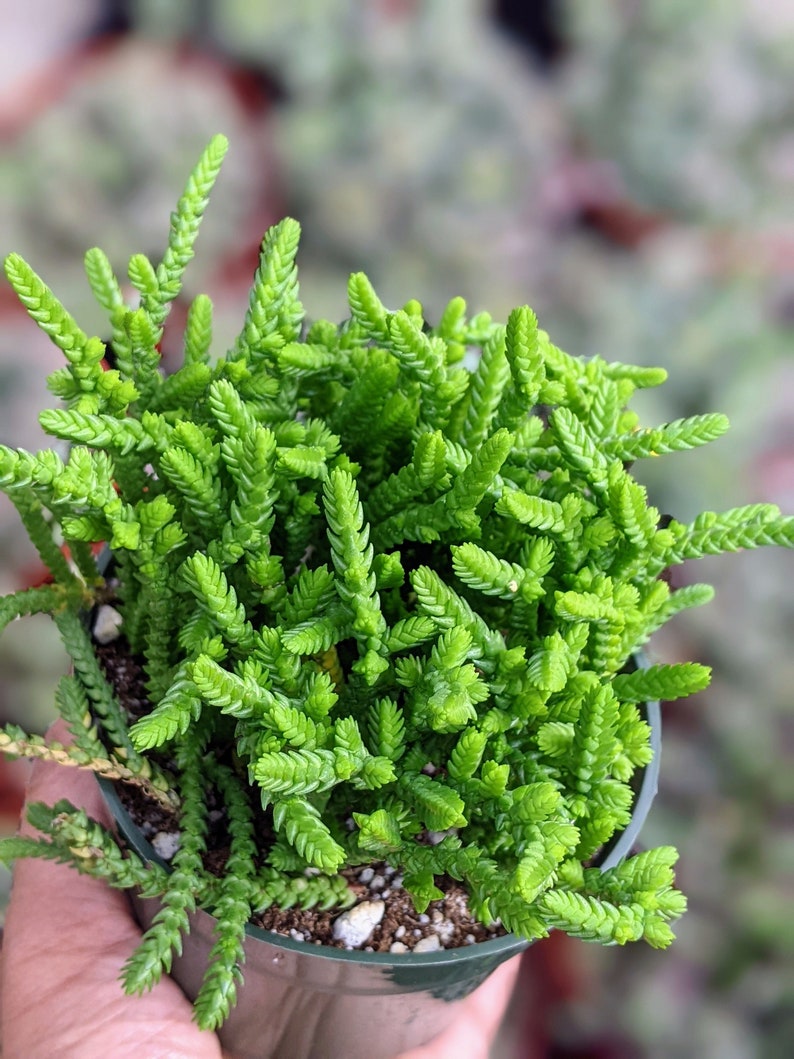 Source: Etsy
Ideal Temperature
Watch Chain Crassula thrives in moderate temperatures between 60-75°F (15-24°C). This succulent is not frost-tolerant, and it is best to keep it away from freezing temperatures, which can damage or kill the plant. If you live in an area with colder temperatures, it is best to grow the succulent indoors or in a greenhouse.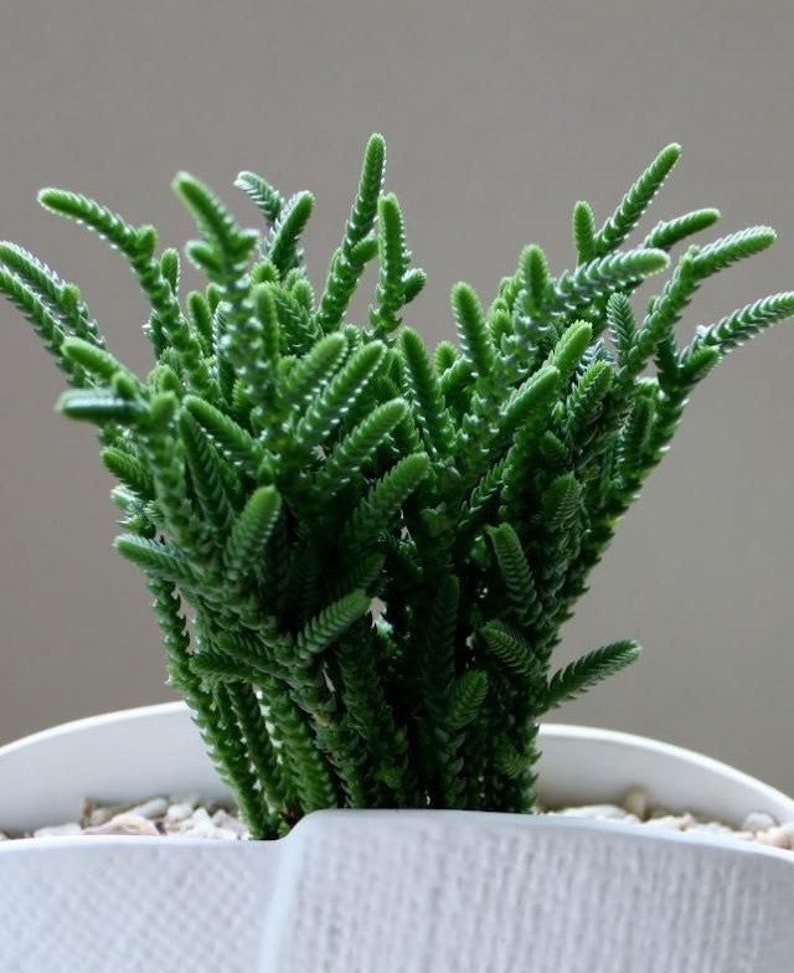 Source: Etsy
Ideal Hardiness Zone
In terms of hardiness zones, the Watch Chain Crassula is generally recommended for USDA hardiness zones 9b-11. These zones have an average minimum temperature range of 25-45°F (-3.9 to 7.2°C) and are suitable for growing a wide variety of succulents, including the Watch Chain Crassula.
If you live in a colder climate and still want to grow this succulent, you can consider growing it in a container indoors. Indoor growing allows you to control the succulent's growing environment, including the temperature and light exposure, to ensure that it receives the ideal conditions for growth.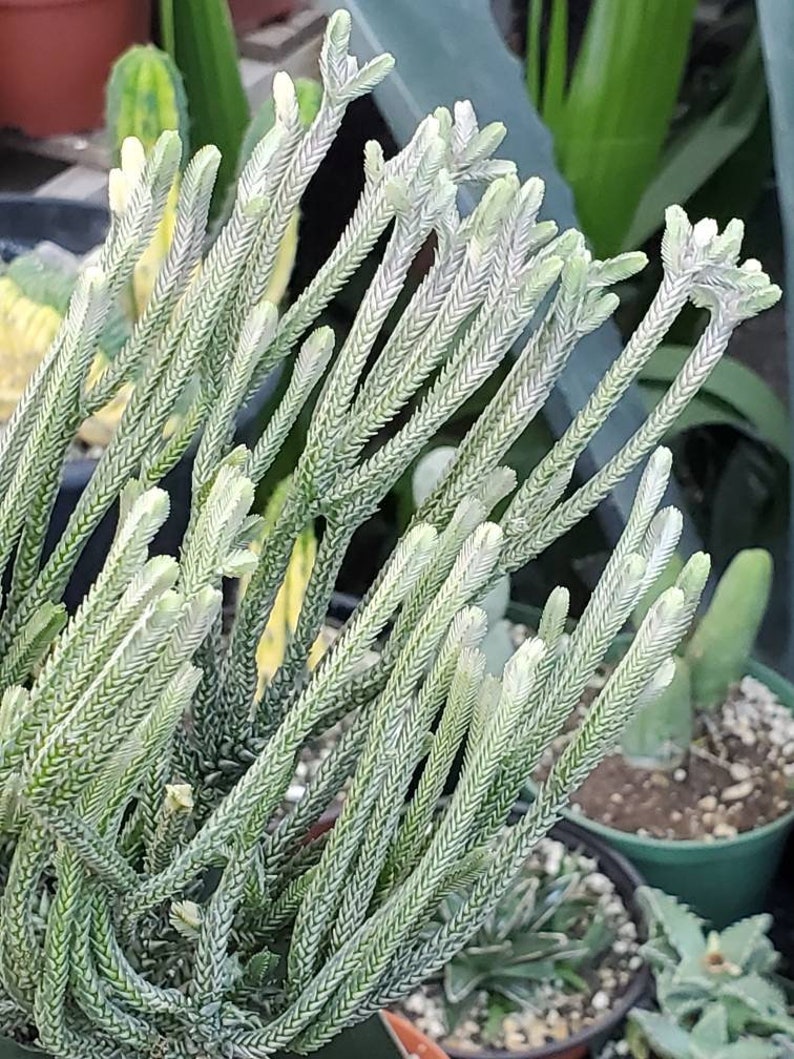 Source: Etsy
How to Propagate Crassula muscosa 'Watch Chain'
Propagating the Watch Chain Crassula is a simple process that can be done through stem cuttings. Here are some steps to propagate the Watch Chain Crassula:
Step 1: Select a healthy stem from the parent plant and cut it using a sharp, sterilized knife.
Step 2: Let the cutting dry in a shaded area for a few days to allow the cut to callus.
Step 3: Once the cutting has callused, place it in well-draining soil mix, burying the lower end of the cutting about 1-2 inches (2.5-5 cm) deep.
Step 4: Water the soil sparingly and keep the cutting in a shaded area to prevent sunburn.
Step 5: After a few weeks, the cutting should root and begin to grow.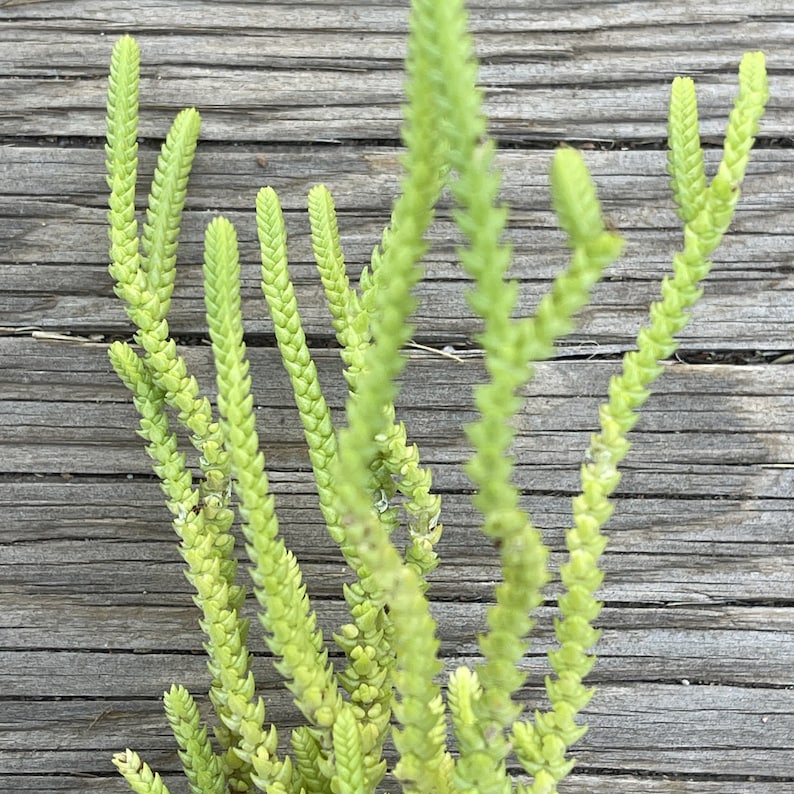 Source: Etsy
Growing Season:
Winter
Dormant Season:
Summer
Size: Up to 12″ tall and 12″ wide
Foliage: Green
Flower: Pale yellowish-green
Origin: South Africa
There is also a variegated variety of Crassula muscosa 'Watch Chain Crassula' which is becoming increasingly more common to buy in garden centers.