Echeveria 'Atlantis' is a stunning succulent that has gained popularity among plant enthusiasts for its unique appearance and ease of care. In this comprehensive guide, we will explore everything you need to know about caring for Echeveria 'Atlantis' to ensure its health and longevity. From its natural habitat to propagation techniques and common problems, we have got you covered.
Dig in!
Natural Habitat and Common Names
Echeveria are native to Mexico, but this is a hybrid variety of garden origin and belongs to the Crassulaceae family. It is commonly known as 'Atlantis' due to its striking appearance resembling an underwater coral reef. While it goes by its scientific name, Echeveria 'Atlantis' is also sometimes referred to as 'Peaches and Cream'.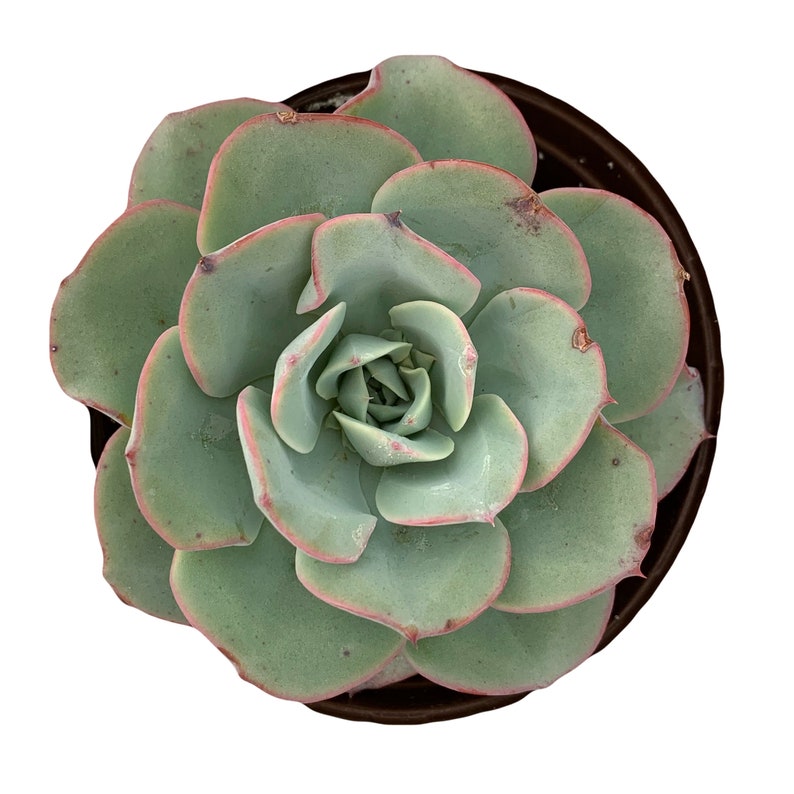 Source: Etsy
Unique Adaptations and Special Features
Echeveria 'Atlantis' possesses several unique adaptations that set it apart from other succulents. One of its remarkable features is its rosette-shaped leaves, which are tightly packed and overlap each other. These leaves have a mesmerizing color palette, ranging from blue-green to pink and even hints of purple.
You might also like: 12 Cactus and Succulent Adaptations: How These Incredible Plants Have Adapted to Survive in Extreme Environments
This succulent's ability to change colors in response to different light conditions makes it a standout in any collection. Additionally, Echeveria 'Atlantis' has thick fleshy leaves that store water, enabling it to survive in arid conditions and making it highly drought-tolerant.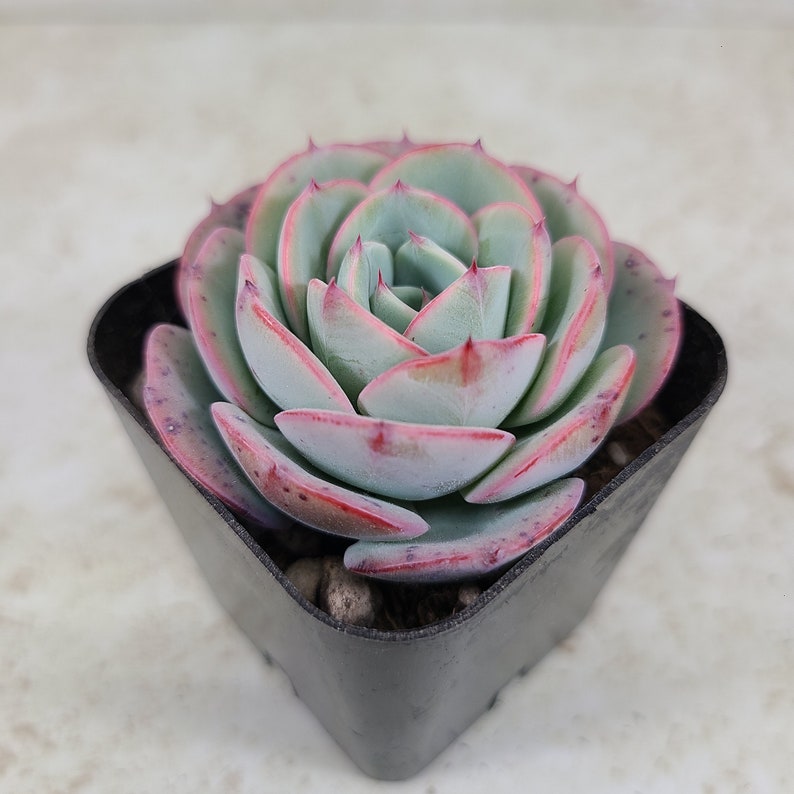 Source: Etsy
Differentiating Echeveria 'Atlantis' from Other Succulents
Echeveria 'Atlantis' can be easily differentiated from other succulents by its distinct leaf coloration and arrangement. Unlike many other succulents, its leaves display a mesmerizing mix of blues, greens, pinks, and purples all in one rosette.
The leaves are tightly packed and overlap, creating a dense and compact appearance. This succulent's unique coloration and leaf arrangement make it a highly sought-after addition to any succulent collection.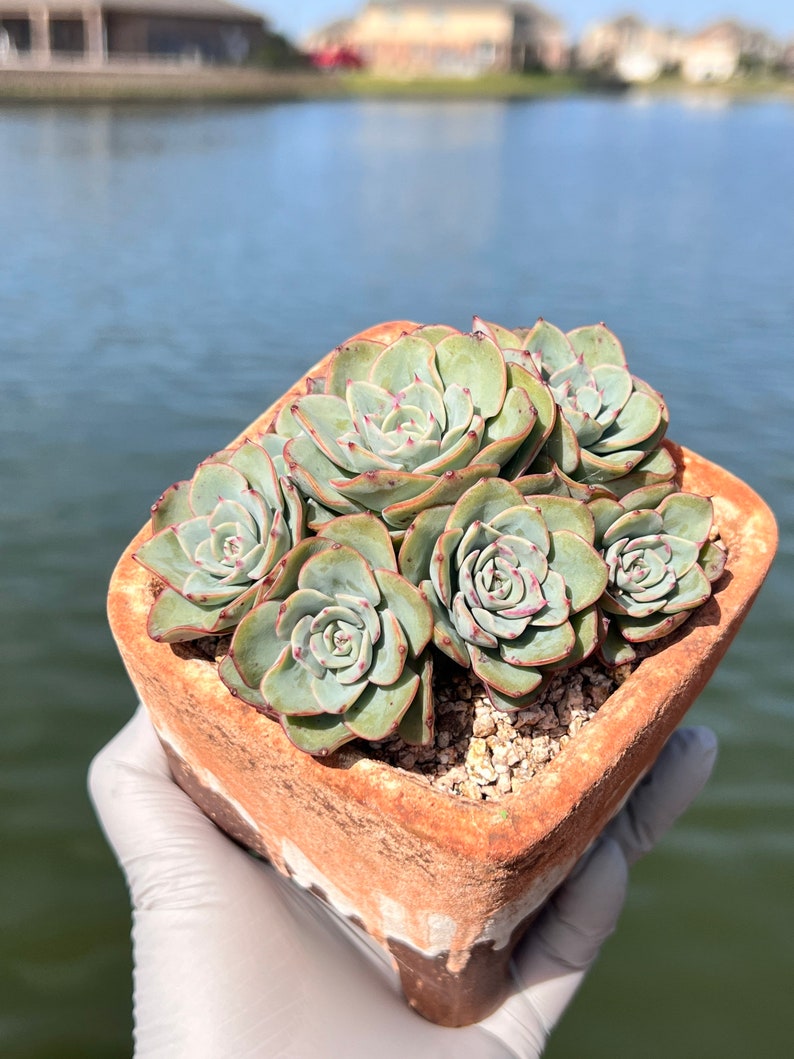 Source: Etsy
Appearance and Growth
Echeveria 'Atlantis' showcases a stunning rosette form, with leaves arranged in a spiral pattern. The rosettes can reach a diameter of about 4 to 6 inches (10 to 15 cm) when fully grown. The leaves themselves are spoon-shaped and have a slightly rounded tip.
The colors of the leaves can vary depending on environmental conditions, with shades ranging from pale blue-green to vibrant pink and purple.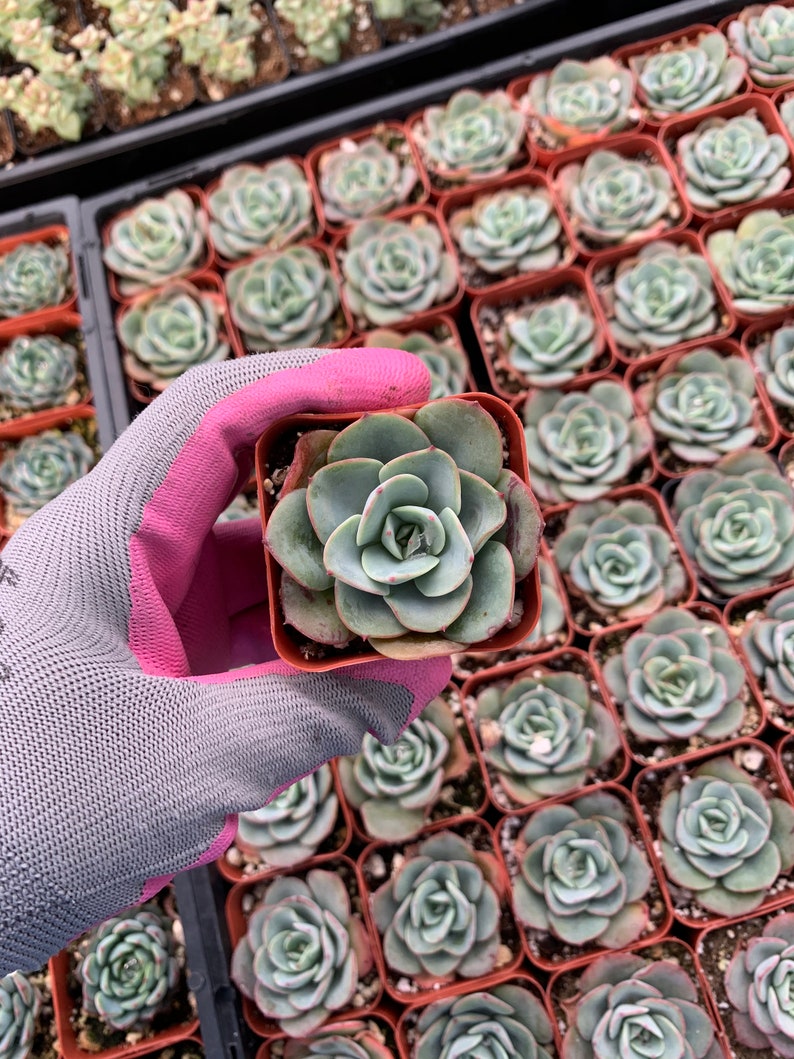 Source: Etsy
Flowering and Bloom Triggers
When Echeveria 'Atlantis' reaches maturity, it produces tall flower stalks that can reach up to 12 inches (30 cm) in height. The flowers themselves are bell-shaped and usually come in shades of orange, coral, or pink.
Echeveria 'Atlantis' typically blooms during the summer months, with the exact timing varying slightly depending on environmental factors such as light and temperature. The blooming process is triggered by longer daylight hours and warmer temperatures.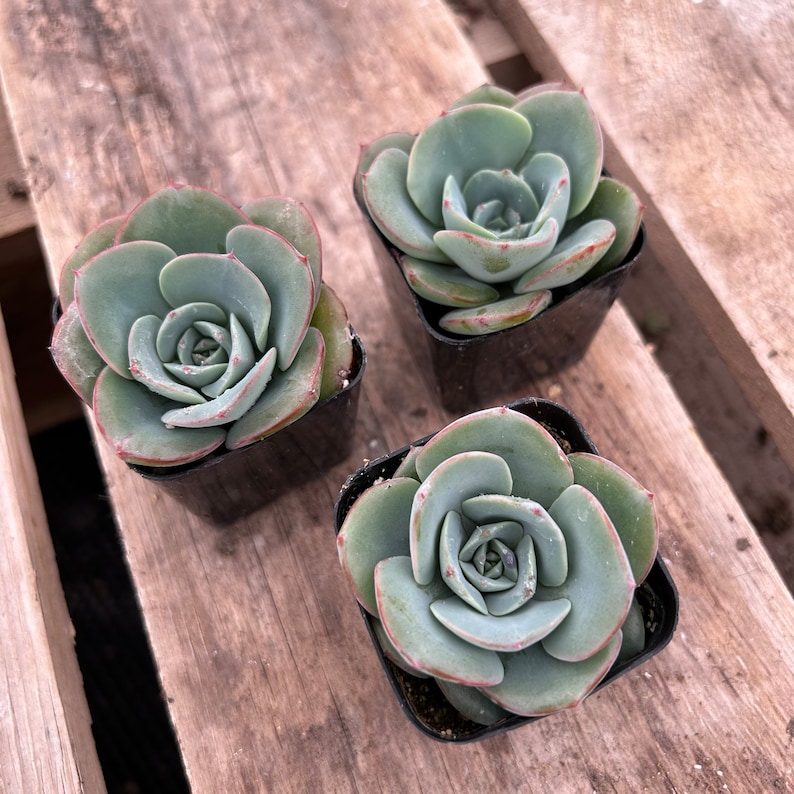 Source: Etsy
Growth Rate and Seasonality
Echeveria 'Atlantis' has a moderate growth rate compared to other succulents. It tends to grow actively during the spring and summer months when temperatures are warmer and sunlight is abundant.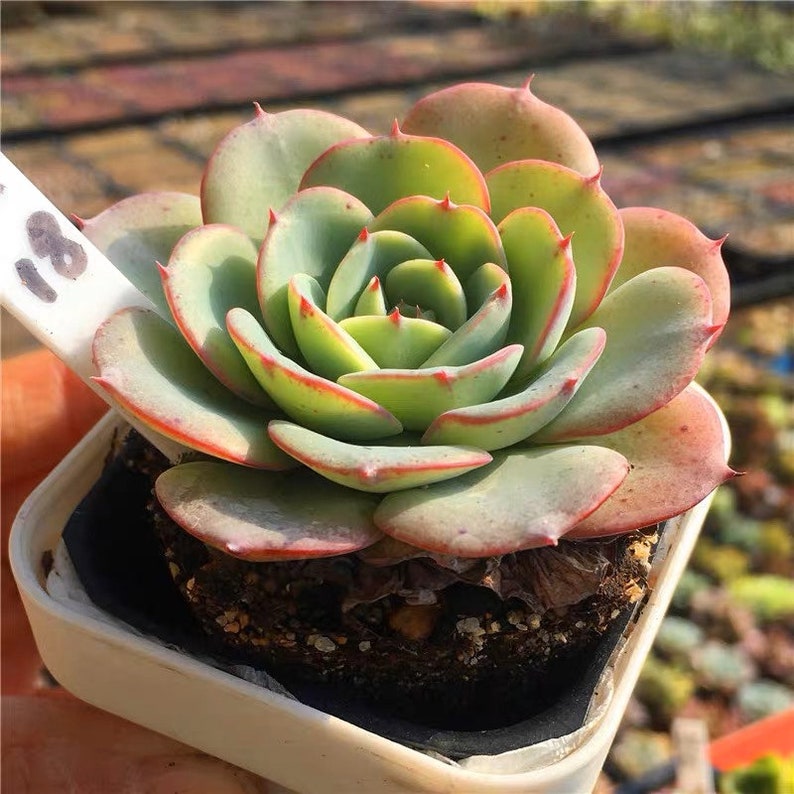 Source: Etsy
During the winter months, growth slows down, and the plant may enter a period of dormancy. It is important to adjust care routines accordingly during this period.
You might also like: Succulent Dormancy: 5 Easy Ways to Tell if Your Succulent is Going Dormant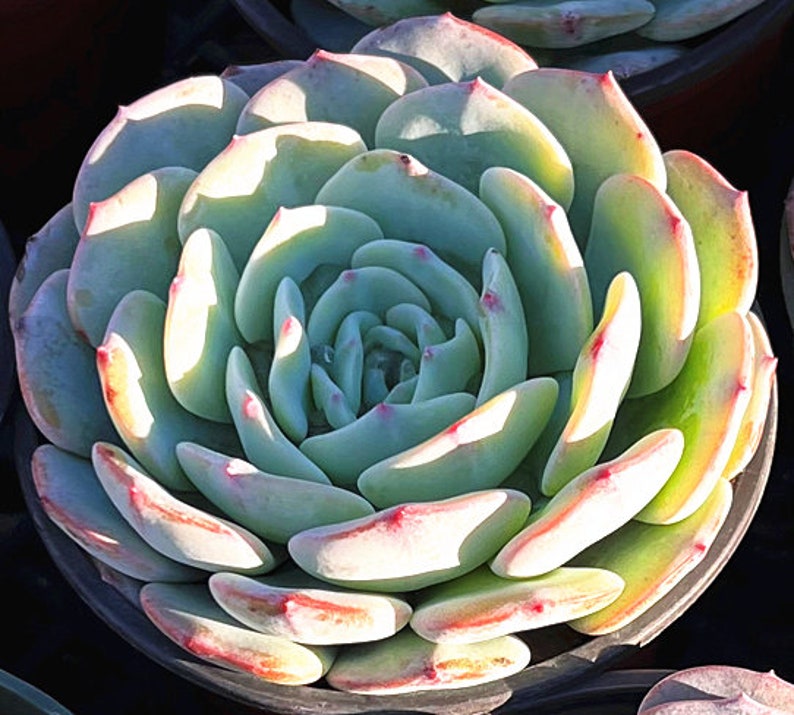 Source: Etsy
Light Requirements and Cold Hardiness
Echeveria 'Atlantis' thrives in bright, indirect light. It requires at least 4 to 6 hours of sunlight per day to maintain its vibrant colors and compact growth habit. However, it is crucial to protect the plant from intense, direct sunlight, as it can cause sunburn and damage the leaves.
You might also like: How Much Light Do Succulents Need? A Comprehensive Guide in 14 Parts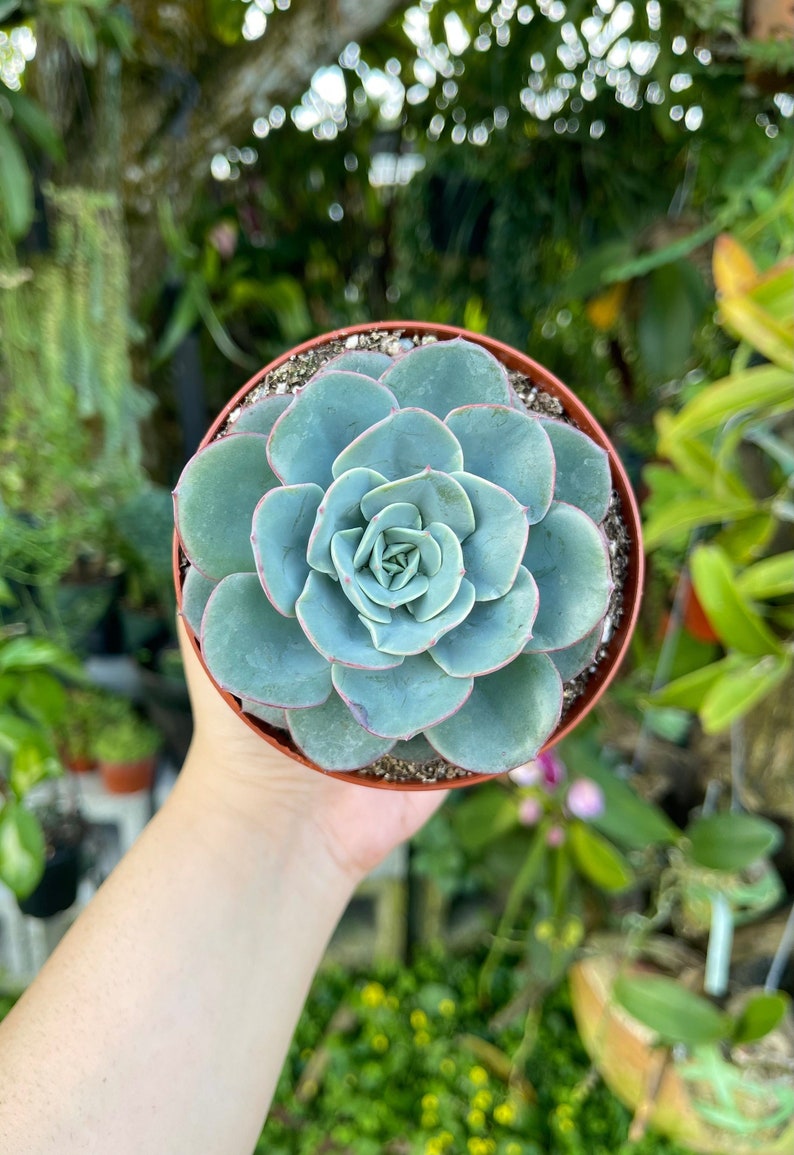 Source: Etsy
When it comes to cold hardiness, Echeveria 'Atlantis' can tolerate temperatures down to 20°F (-6°C). However, it is best to provide protection from frost and extreme cold to prevent any potential damage.
Care and Watering
Proper care and watering are essential for the health and longevity of Echeveria 'Atlantis'. As a succulent, it is adapted to arid conditions and has low water requirements. It is crucial to allow the soil to dry out completely between waterings to prevent overwatering, which can lead to root rot.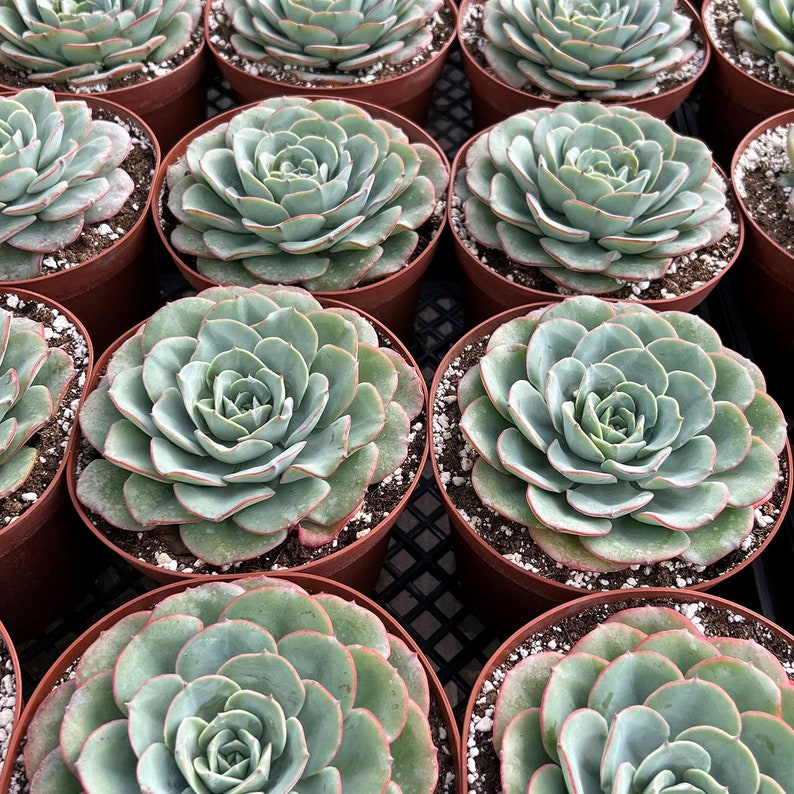 Source: Etsy
A general rule of thumb is to water the plant thoroughly and then wait until the top inch (2.5 cm) of soil is dry before watering again. During the winter months, when the plant is in a dormant state, reduce watering frequency.
You might also like: How & When to Water Succulents So They Don't Die (2023 Update)
Minimum Temperature Tolerance and Rain Exposure
Echeveria 'Atlantis' can tolerate temperatures as low as 20°F (-6°C). However, it is important to note that prolonged exposure to freezing temperatures can damage the leaves and potentially kill the plant. It is recommended to provide protection or bring the plant indoors during periods of frost or extremecold to ensure its survival.

Source: Etsy
When it comes to rain exposure, Echeveria 'Atlantis' can handle occasional rainfall. However, it is important to ensure that the soil has proper drainage to prevent waterlogged conditions, which can lead to root rot. If heavy rainfall is expected, it is advisable to move the plant under cover or provide some form of protection.
You might also like: Can Succulents Survive in the Rain? A Look at the Factors to Consider to Keep Your Babies From Natural Overwatering + 5 Ways to Improve Drainage
Soil and Potting Mix
Echeveria 'Atlantis' requires well-draining soil to prevent issues such as root rot. A suitable potting mix for this succulent consists of a combination of gritty soil, such as cactus or succulent soil, mixed with perlite or pumice to improve drainage. This type of soil mix allows excess water to flow freely and helps prevent waterlogged conditions.
You might also like: Succulent Soil: Ultimate Guide & 4 DIY Recipes to Keep Your Succulents Happy and Healthy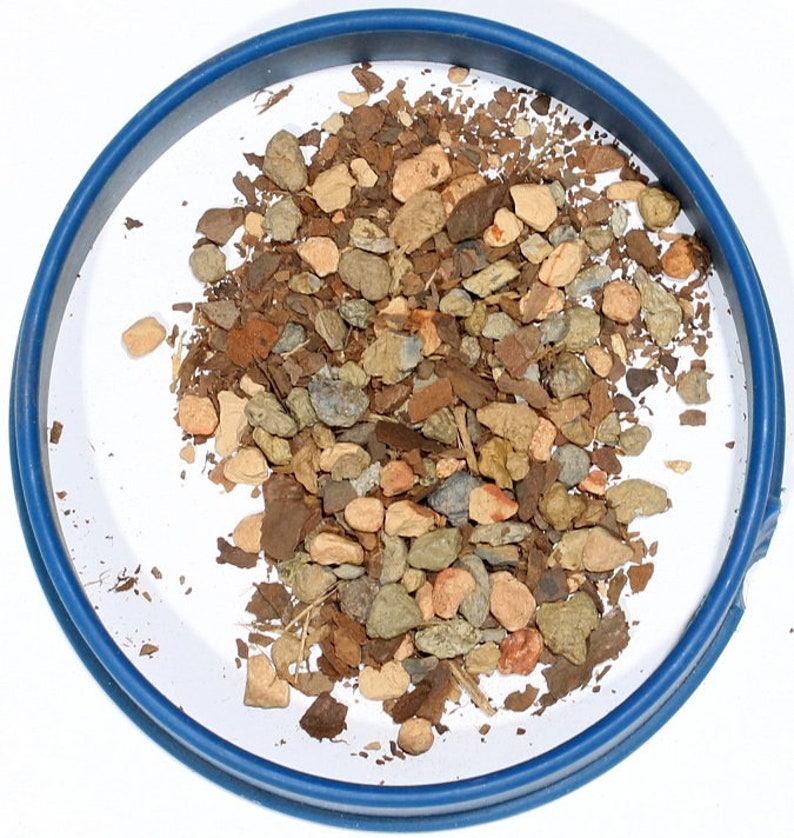 Consider amending your soil with Bonsai Jack's gritty mix to ensure your succulent soil drains quickly to prevent it from staying moist for too long. Source: Etsy
Fertilizer Requirements
Echeveria 'Atlantis' does not have high fertilizer requirements but can benefit from occasional feeding during the growing season. A balanced, water-soluble fertilizer formulated for succulents or cacti can be applied at half the recommended strength once every 2 to 4 weeks. It is important to dilute the fertilizer and avoid overfertilization, as this can lead to salt buildup in the soil, causing damage to the plant.
You might also like: 10 DIY Succulent Fertilizer Recipes: The Ultimate Guide to Healthy Succulents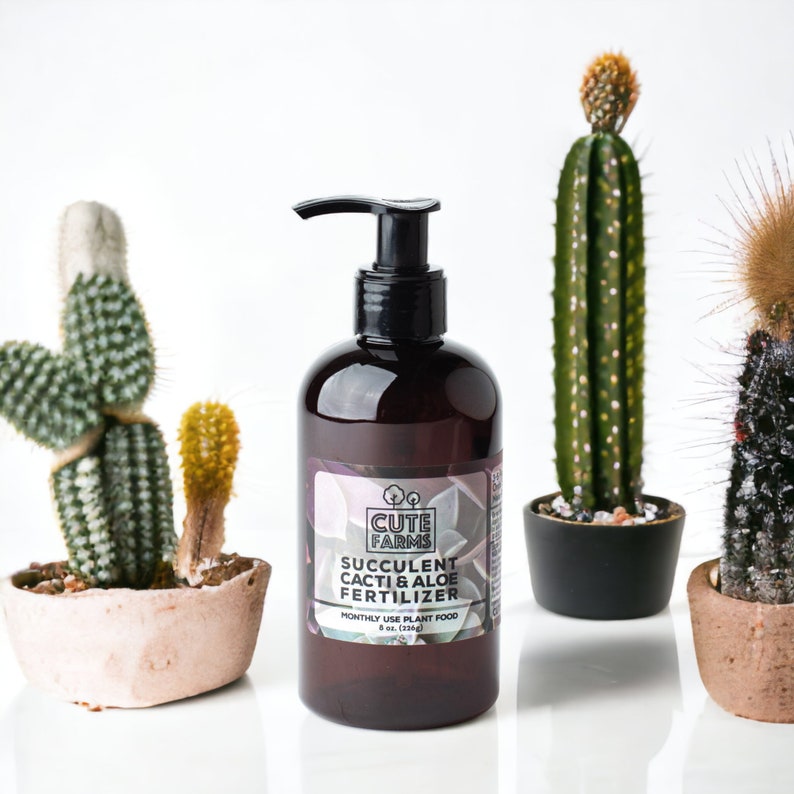 Succulent fertilizer available to purchase on Etsy.
Propagation Techniques
Echeveria 'Atlantis' can be propagated through several methods, including leaf cuttings and offsets. Leaf cuttings involve carefully removing a healthy leaf from the plant, allowing it to callus for a few days, and then placing it on top of well-draining soil. After a few weeks, roots will start to develop, and a new plant will begin to form. Offsets, or "pups," are small plantlets that grow from the base of the parent plant. These can be carefully separated and repotted to establish new plants. Both methods require patience and proper care to ensure successful propagation.
You might also like: Propagating Succulents 4 Ways: The Best Guide Ever
When you're rooting or transplanting your succulents and cacti, use SUPERthrive to help reduce the chance of transplant shock and grow a strong root system.
Common Problems and Pests
While Echeveria 'Atlantis' is generally a resilient and low-maintenance succulent, it can still face certain problems and pests. Overwatering is one of the most common issues, which can lead to root rot and eventually kill the plant. It is important to allow the soil to dry out between waterings and provide proper drainage. Another common problem is pests, such as mealybugs and aphids. Regularly inspecting the plant for any signs of pests and taking appropriate measures, such as using insecticidal soap or neem oil, can help prevent infestations.
You might also like: 14 of the WORST Succulent Pests and Diseases, Prevention Tips and Fixes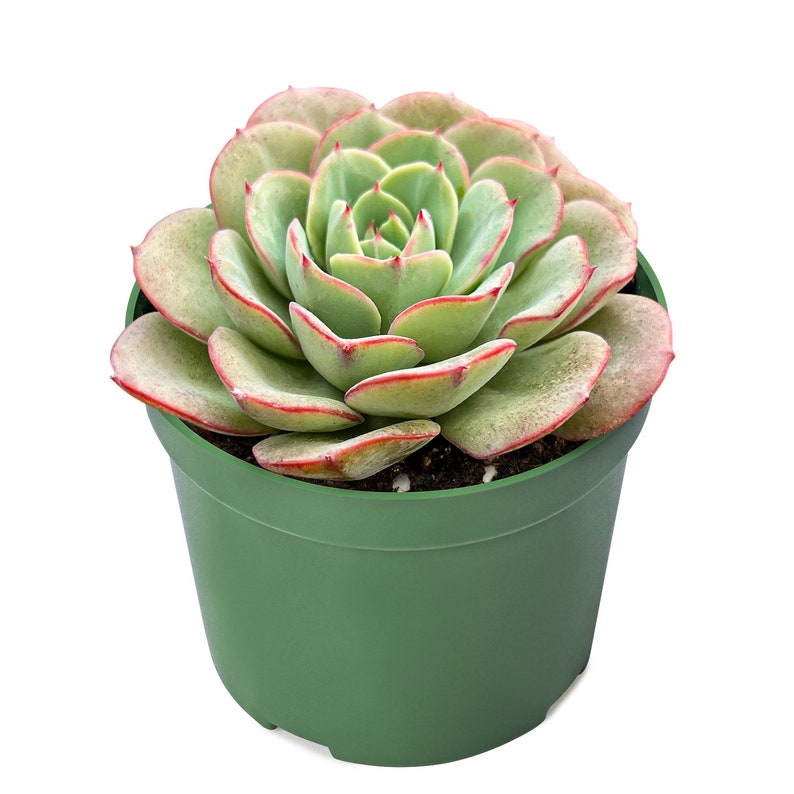 Source: Etsy
Echeveria 'Atlantis' is a stunning succulent with unique adaptations and a remarkable appearance. By providing the right care, including proper lighting, watering, and soil conditions, you can ensure the health and beauty of this captivating plant. Whether you are a beginner or an experienced succulent enthusiast, Echeveria 'Atlantis' is a great addition to any collection, adding a touch of elegance and fascination to your indoor or outdoor space.