Notocactus schlosseri, a charming and hardy succulent, is a captivating addition to any plant collection. This comprehensive guide offers insights into the natural habitat, unique adaptations, growth characteristics, and care requirements of this stunning cactus.
Dig in!
What is Notocactus Schlosseri?
Notocactus schlosseri hails from the rocky grasslands of Uruguay. This high-altitude environment, with its dry winters and rainy summers, has shaped the unique adaptations this plant possesses. It is also known as Parodia schlosseri or Parodia erubescens.
Unique Adaptations
Unlike many other succulents, Notocactus schlosseri has evolved to thrive in specific environmental conditions. The cactus' spherical shape minimizes surface area exposed to the sun, reducing water loss. Its thick, waxy skin and sharp spines further protect it from harsh sunlight and potential predators.
Differentiating Notocactus Schlosseri
Identifying Notocactus schlosseri is relatively easy due to its unique characteristics. The cactus has a globular to columnar shape and can grow up to 15 cm in height and 7 cm in diameter. It's covered in golden-yellow spines, giving it a picturesque appeal. While young, these cacti maintain a spherical shape, but as they age, they elongate into a columnar form.
The Beauty of the Blooms
Notocactus schlosseri blooms with beautiful, bell-shaped flowers. These are typically yellow but can sometimes be white. The blooming period usually happens in summer and can be triggered by a period of winter dormancy and a sudden increase in temperature and sunlight.
Growth and Seasonality
Notocactus schlosseri is a slow-growing cactus that primarily grows during the warm, rainy summer season. Given ideal conditions, the cactus can reach its maximum height in approximately 5 to 10 years.
Light Requirements and Cold Hardiness
Notocactus schlosseri loves sunlight and prefers a full day of bright, indirect light. It is cold hardy and can tolerate temperatures as low as -7°C (20°F). However, it's crucial to avoid sudden temperature changes, which can shock the plant.
Caring for Notocactus Schlosseri
Watering Notocactus schlosseri depends on the season. During its active growth period in summer, water the cactus once the topsoil has dried out completely. In winter, reduce watering significantly to prevent root rot.
When you're rooting or transplanting your succulents and cacti, use SUPERthrive to help reduce the chance of transplant shock and grow a strong root system.
Fertilizing Your Cactus
Fertilize your Notocactus schlosseri during the growing season with a cactus-specific fertilizer. Fertilize every 4 to 6 weeks from spring through summer, but avoid fertilizing in winter when the plant is dormant.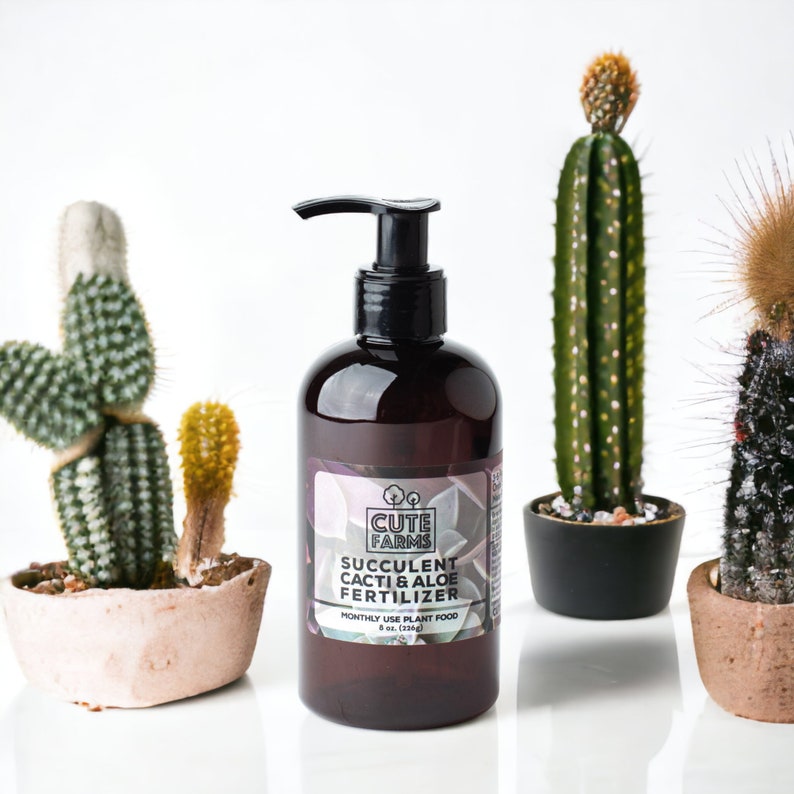 Succulent fertilizer available to purchase on Etsy.
Propagation and Pruning
Notocactus schlosseri can be propagated from seeds or offsets. The best time to propagate is during the growing season. Pruning is usually unnecessary unless you need to remove dead or diseased plant parts.
Common Problems and Pests
The most common problems with Notocactus schlosseri are overwatering and inadequate light, which can lead to root rot and etiolation, respectively. The plant can attract pests like mealybugs and spider mites. Regular inspection and appropriate pest control measures can help keep these problems at bay.
Fix the pest problem on your succulents and cacti with these popular insecticides.
Indoor Growing and Toxicity
Notocactus schlosseri can be grown indoors provided it gets enough light. It's non-toxic to cats, dogs, and humans, making it a safe choice for households with pets and children – spines and all.
Dormancy Signs
You can tell if your Notocactus schlosseri is dormant if it stops growing and the color becomes slightly duller. During dormancy, the cactus conserves resources, requiring less water and virtually no fertilizer.
Discover the joy of growing Notocactus schlosseri – a golden symbol of endurance and resilience. This cactus, with its striking appearance and easy maintenance, is a perfect addition to your indoor or outdoor garden.