Welcome to our comprehensive care guide for Euphorbia alluaudii, also known as the 'Madagascan Fire Plant', 'Cat Tails Euphorbia' and formerly known as Euphorbia leucodendron. In this guide, we will provide you with all the information you need to successfully care for this unique succulent. From its natural habitat to its special adaptations, growth habits, and care requirements, we've got you covered. Let's dive in!
Natural Habitat and Common Names
Euphorbia alluaudii is native to the arid regions of Madagascar, an island located off the east coast of Africa. It is commonly known as the Madagascan Fire Plant, but it also goes by other names such as 'Alluaud's Euphorbia', 'Cat Tails Euphorbia' and Euphorbia leucodendron.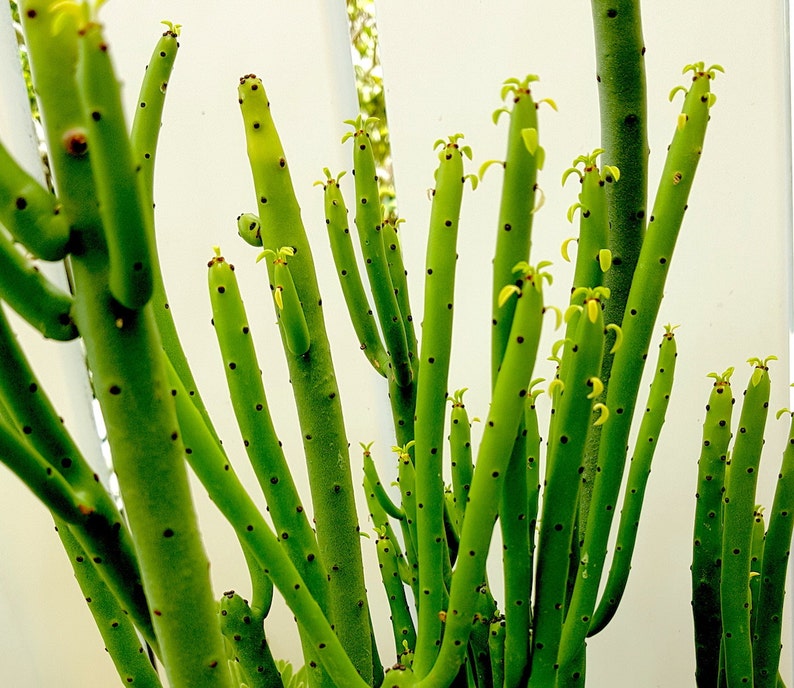 Source: Etsy
Unique Adaptations
This succulent has several unique adaptations that set it apart from other succulents. One of its most notable features is its thick, pencil-like stems with distinct ridges and sharp edges. These adaptations help the plant to store water and reduce transpiration, allowing it to survive in its arid native habitat. Additionally, the plant produces a milky sap that acts as a defense mechanism against herbivores and pests.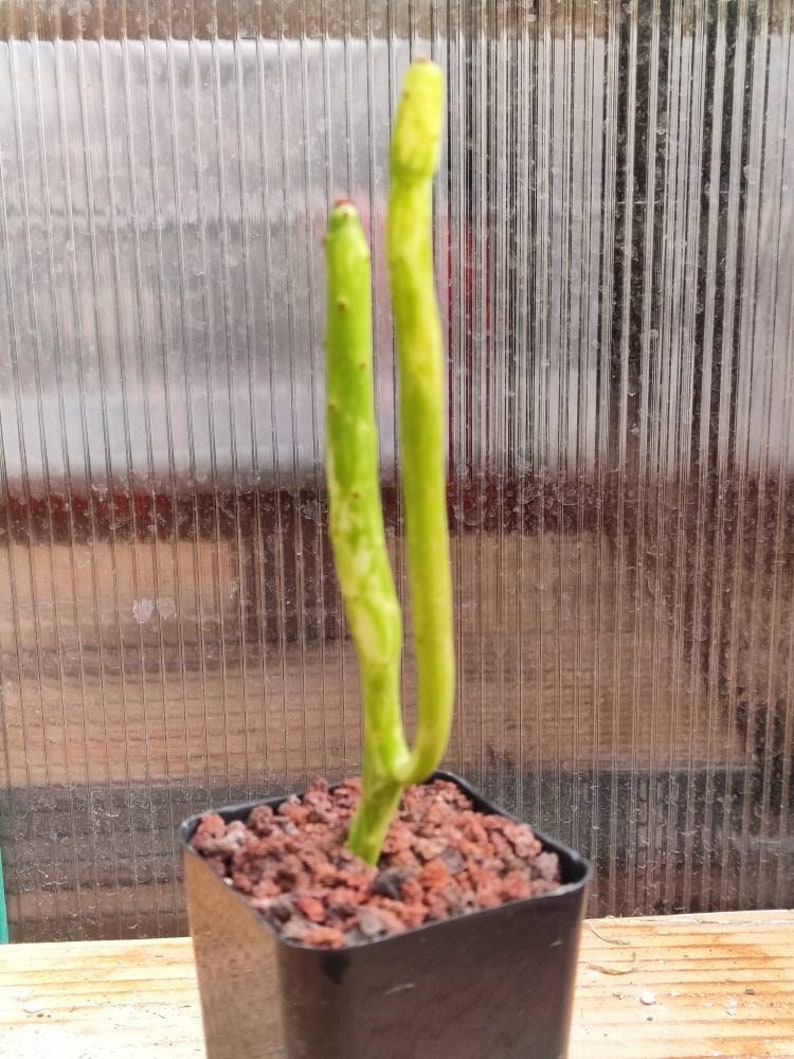 Source: Etsy
Differentiating Euphorbia alluaudii
Euphorbia alluaudii 'Madagascan Fire Plant' can be easily differentiated from other succulents by its distinctive growth habit and stem structure. Unlike many succulents with rosette or compact forms, this species grows in a branching, cactus-like structure with cylindrical stems. The stems can reach heights of up to 6 feet (2 meters) and have a unique green coloration with pale vertical stripes.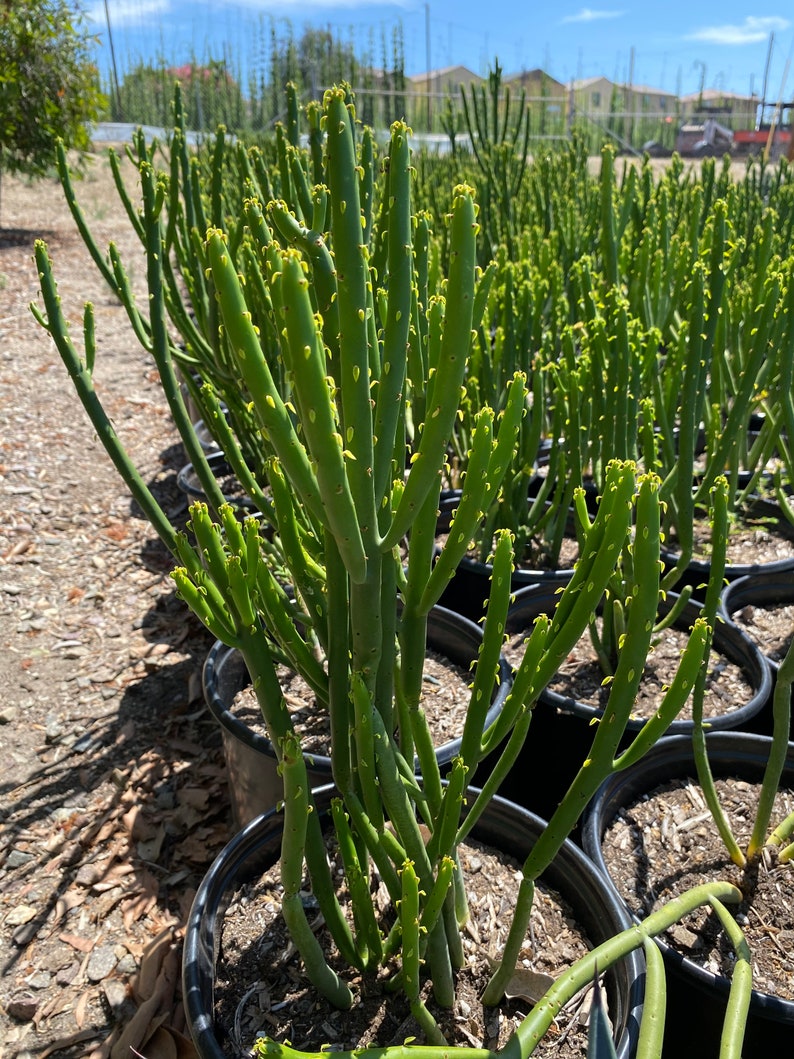 Source: Etsy
Appearance and Growth Habits
Euphorbia alluaudii 'Madagascan Fire Plant' has an intriguing appearance that adds a touch of exotic beauty to any succulent collection. Its stems are covered in small, scale-like leaves that are typically shed as the plant matures. The stems grow upright, branching out as they reach their full height. In terms of size, this succulent can reach a maximum height of 6 feet (2 meters) and has a spread of around 3 feet (1 meter).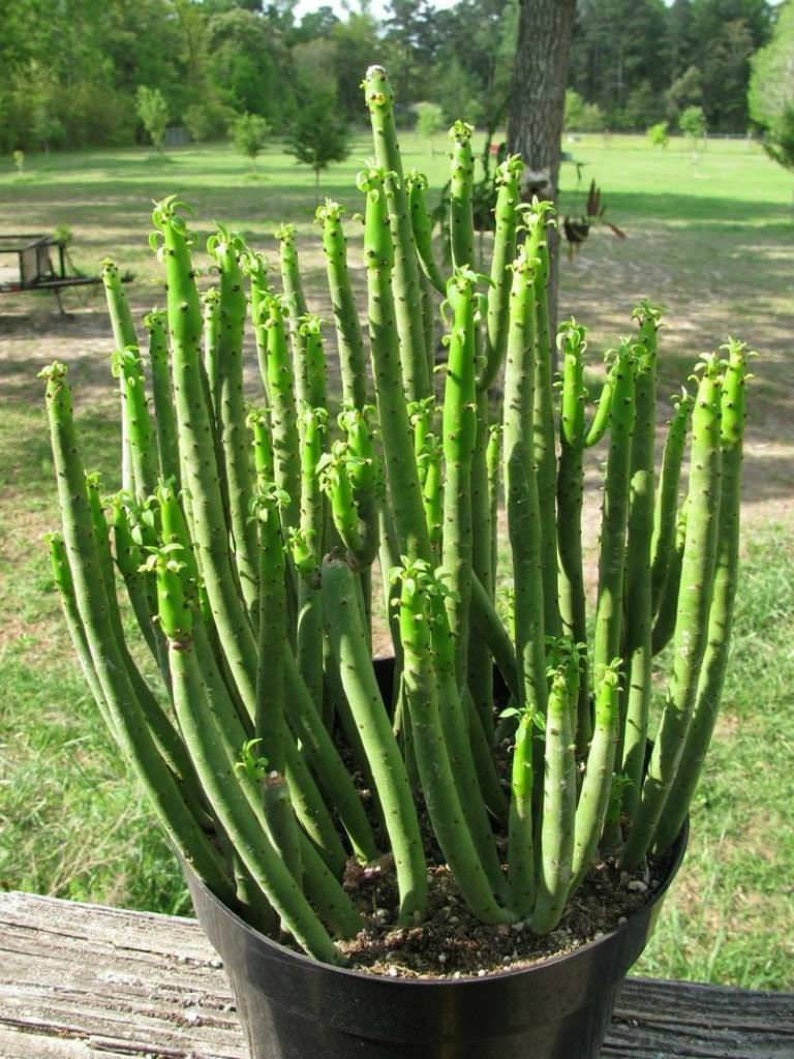 Source: Etsy
Flower Color, Blooming Time, and Triggers
While Euphorbia alluaudii 'Madagascan Fire Plant' is primarily grown for its unique stem structure, it does produce small, inconspicuous flowers. The flowers are usually a pale yellow color and appear in clusters at the tips of the stems. The blooming period for this plant typically occurs during the spring and summer months. The exact timing of blooming can vary depending on growing conditions, but generally, it is triggered by longer days and increased sunlight.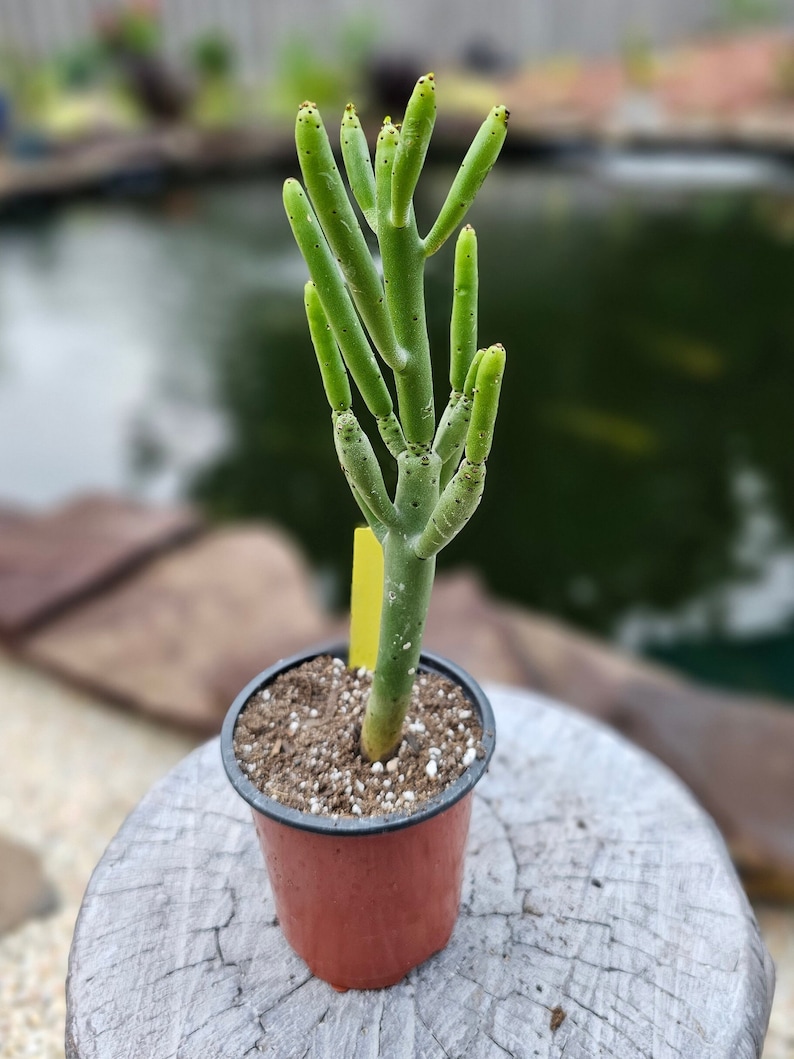 Source: Etsy
Growth Rate and Seasonality
The growth rate of Euphorbia alluaudii 'Madagascan Fire Plant' is relatively slow compared to some other succulents. It may take several years for the plant to reach its full height. In terms of seasonality, this succulent is considered a summer grower. It experiences its most active growth during the warm months when temperatures are favorable.
When you're rooting or transplanting your succulents and cacti, use SUPERthrive to help reduce the chance of transplant shock and grow a strong root system.
Light Requirements and Cold Hardiness
Euphorbia alluaudii 'Madagascan Fire Plant' thrives in bright, indirect light. It requires at least 4 to 6 hours of sunlight per day to maintain its health and vibrant coloration. However, it is important to protect the plant from intense, direct sunlight as it can lead to sunburn and damage the stems. In terms of cold hardiness, this succulent is not frost-tolerant and should be protected from temperatures below 50°F (10°C).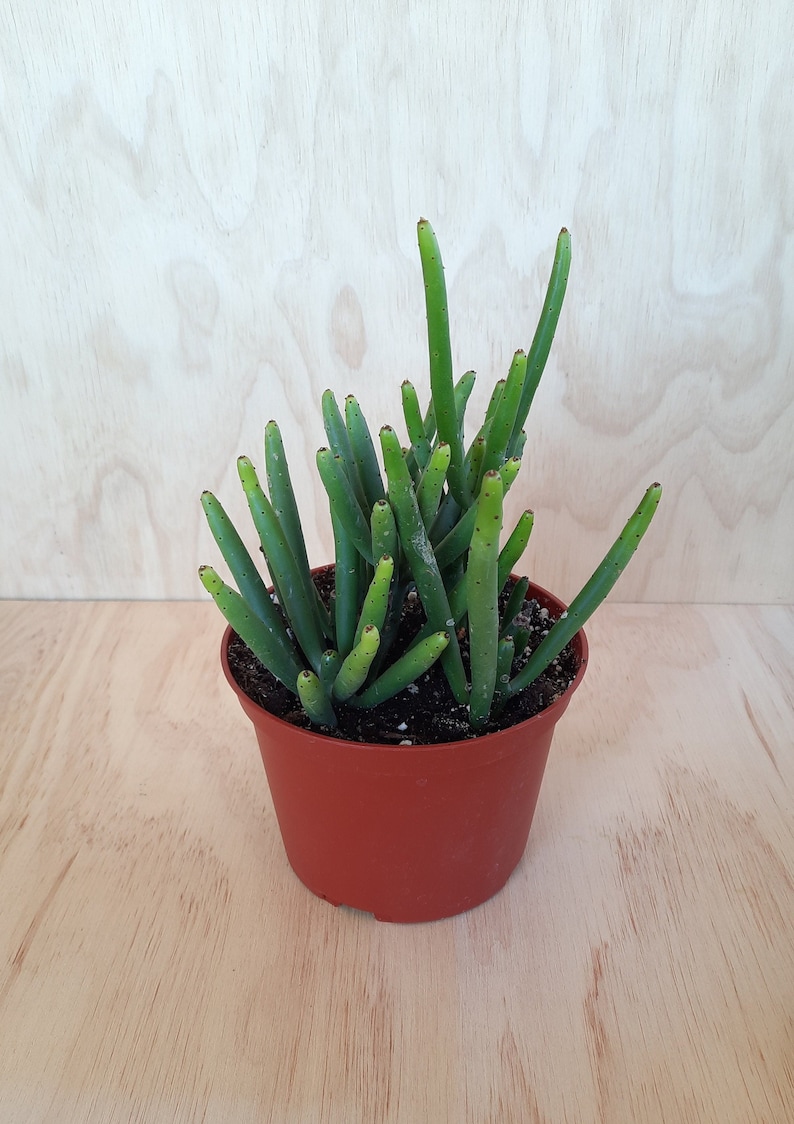 Source: Etsy
Care and Watering
Proper care and watering are crucial for the health and longevity of Euphorbia alluaudii 'Madagascan Fire Plant'. As a succulent, it has low water requirements and is highly adapted to arid conditions. It is important to allow the soil to dry out between waterings to prevent root rot. During the active growing season, water the plant thoroughly, ensuring that excess water drains away. In winter, reduce watering frequency to mimic the plant's natural dormant period.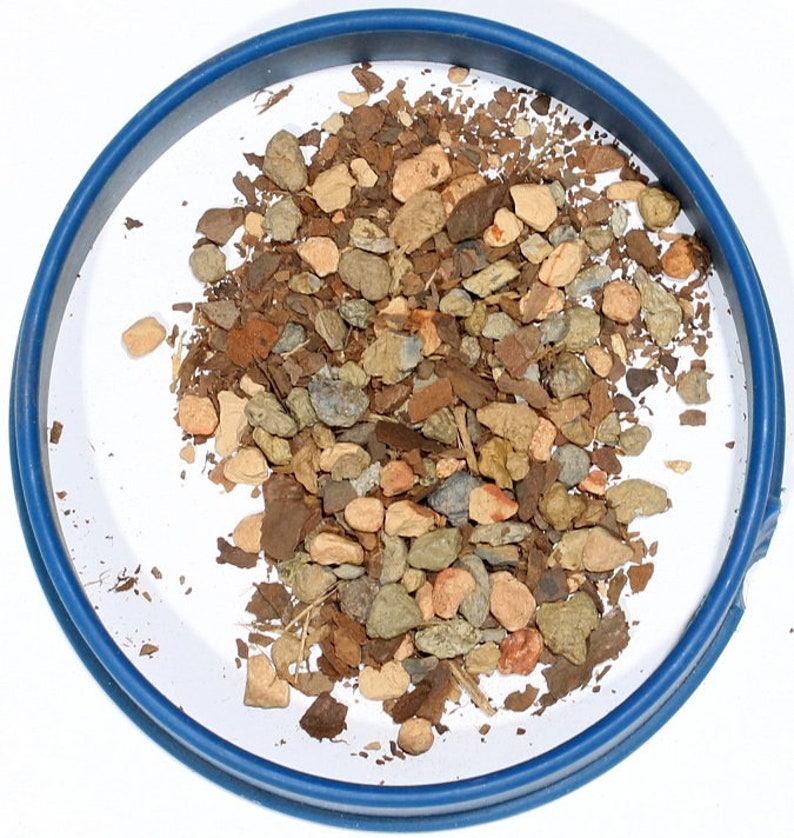 Consider amending your soil with Bonsai Jack's gritty mix to ensure your succulent soil drains quickly to prevent it from staying moist for too long. Source: Etsy
Minimum Temperature Tolerance and Rain Exposure
Euphorbia alluaudii 'Madagascan Fire Plant' has a minimum temperature tolerance of around 50°F (10°C). It is best to keep the plant in a warm environment and protect it from cold drafts and frost. While this succulent can tolerate occasional rainfall, it is important to provide adequate drainage to prevent waterlogging, which can be detrimental to its health.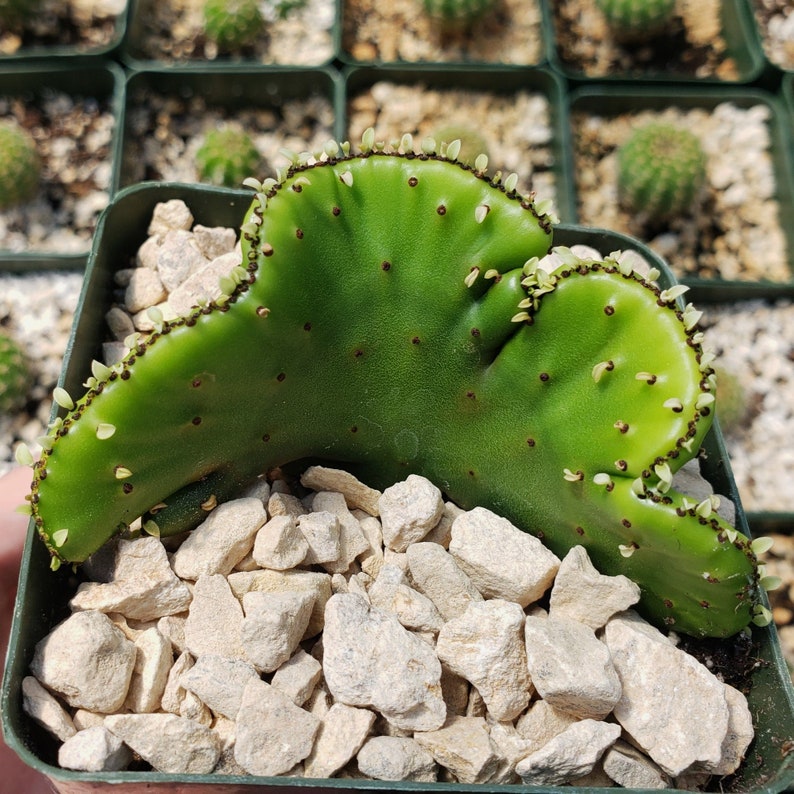 Source: Etsy
Fertilizing Requirements
Fertilizing Euphorbia alluaudii 'Madagascan Fire Plant' is not necessary for its survival, but it can promote healthier growth and enhance its appearance. During the active growing season, you can feed the plant with a balanced, water-soluble fertilizer diluted to half the recommended strength. Apply the fertilizer once every 4 to 6 weeks. However, be cautious not to over-fertilize, as excessive nutrients can cause damage to the plant.
Propagation and Pruning
Propagation of Euphorbia alluaudii 'Madagascan Fire Plant'i can be done through stem cuttings. To propagate, carefully cut a stem section from the parent plant, ensuring that the cutting is at least 4-6 inches long. Allow the cutting to dry and callous over for a few days before planting it in well-draining soil. Keep the soil lightly moist until roots start to develop, then gradually decrease watering frequency. Pruning is not typically necessary for this succulent, but you can remove any dead or damaged stems to maintain its overall appearance.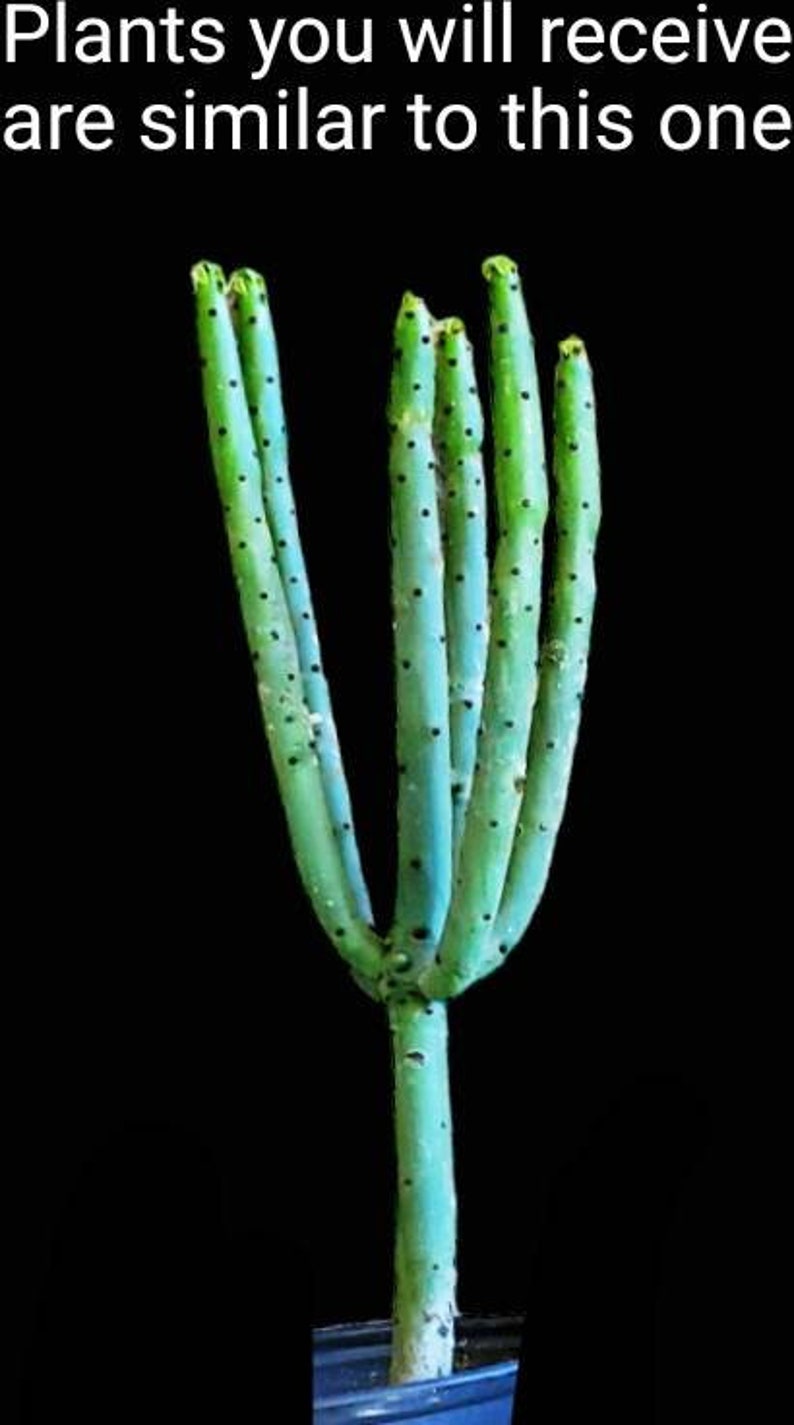 Source: Etsy
Pests and Diseases
Euphorbia alluaudii 'Madagascan Fire Plant' is generally resistant to pests and diseases. However, it can occasionally be susceptible to common succulent pests such as mealybugs and spider mites. Regularly inspect your plant for any signs of infestation, such as webbing or small insects, and treat them accordingly. To prevent diseases, ensure that the plant is not overwatered and that it has adequate airflow to prevent fungal growth.
Toxicity and Handling
It is important to note that Euphorbia alluaudii 'Madagascan Fire Plant', like many other plants in the Euphorbia genus, contains a milky sap that is toxic and can cause skin irritation and eye irritation. When handling the plant, it is recommended to wear gloves and avoid contact with the sap. If accidental contact occurs, wash the affected area with soap and water and seek medical attention if necessary.
Euphorbia alluaudii 'Madagascan Fire Plant' is a captivating succulent with unique adaptations and growth habits. With its thick stems, distinctive appearance, and low maintenance requirements, it can be a stunning addition to any succulent collection. By providing the right care, including proper lighting, watering, and protection from extreme temperatures, you can enjoy the beauty of this fascinating succulent for years to come.