Echeveria 'Blue Prince', also known as 'Blue Prince' Echeveria, is a stunning succulent plant that is highly sought after by plant enthusiasts. In this comprehensive care guide, we will explore all the essential aspects of caring for this beautiful succulent, including its appearance, growth habits, care requirements, propagation methods, common problems, and more.
Plant Overview
Echeveria 'Blue Prince' is a hybrid succulent that belongs to the Crassulaceae family. This variety is known for its striking blue-green leaves and rosette-shaped growth habit. The leaves are fleshy and spoon-shaped, with a powdery coating called "farina" that gives them a unique blue hue. 'Blue Prince' can grow up to 6 inches (15 cm) tall and has a spread of around 8 inches (20 cm).
Flowering and Blooming
While Echeveria 'Blue Prince' is primarily grown for its attractive foliage, it also produces vibrant flowers. The flowers are usually coral red or pink in color and appear on tall stalks called inflorescences. The blooming period for this succulent is typically in the late spring or early summer. However, it's important to note that not all 'Blue Prince' plants will bloom every year.
Echeveria 'Blue Prince' Care Requirements
Light Requirements
Echeveria 'Blue Prince' thrives in bright, indirect light. It prefers at least 6 hours of sunlight per day to maintain its vibrant coloration and compact growth. When grown indoors, placing the plant near a south-facing window or providing artificial grow lights can help meet its light requirements.
Watering
Like most succulents, Echeveria 'Blue Prince' has low water needs. It is important to allow the soil to dry out completely between waterings to prevent root rot. During the active growing season (spring and summer), watering once every two weeks is generally sufficient. In winter, when the plant goes dormant, reduce watering to once a month or when the soil is completely dry.
Soil Type
Well-draining soil is crucial for the health of Echeveria 'Blue Prince'. A sandy or gritty soil mix specifically formulated for succulents is ideal. It should provide good drainage and allow excess water to flow out easily. Adding perlite or coarse sand to regular potting soil can help improve drainage.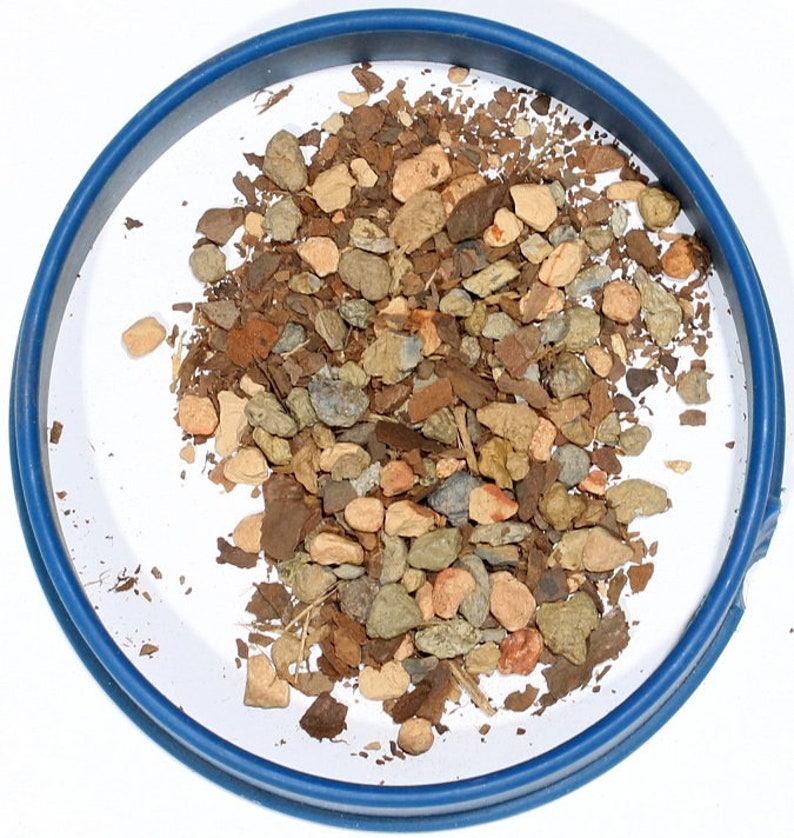 Consider amending your soil with Bonsai Jack's gritty mix to ensure your succulent soil drains quickly to prevent it from staying moist for too long. Source: Etsy
Temperature Tolerance
Echeveria 'Blue Prince' can tolerate a wide range of temperatures, but it thrives in moderate to warm conditions. The ideal temperature range for this succulent is between 65°F and 80°F (18°C to 27°C). It can withstand temperatures as low as 40°F (4°C) for short periods, but prolonged exposure to cold temperatures can damage the plant.
USDA Hardiness Zone
Echeveria 'Blue Prince' is generally recommended for USDA hardiness zones 9 to 11. It can be grown outdoors year-round in these zones, as long as it is provided with adequate protection from frost and freezing temperatures.
Fertilizer
To keep Echeveria 'Blue Prince' healthy and thriving, it is important to fertilize it occasionally. A balanced, water-soluble fertilizer formulated for succulents can be applied once every two to three months during the active growing season. It is important to follow the package instructions and avoid over-fertilization, as this can lead to leaf burn or other issues.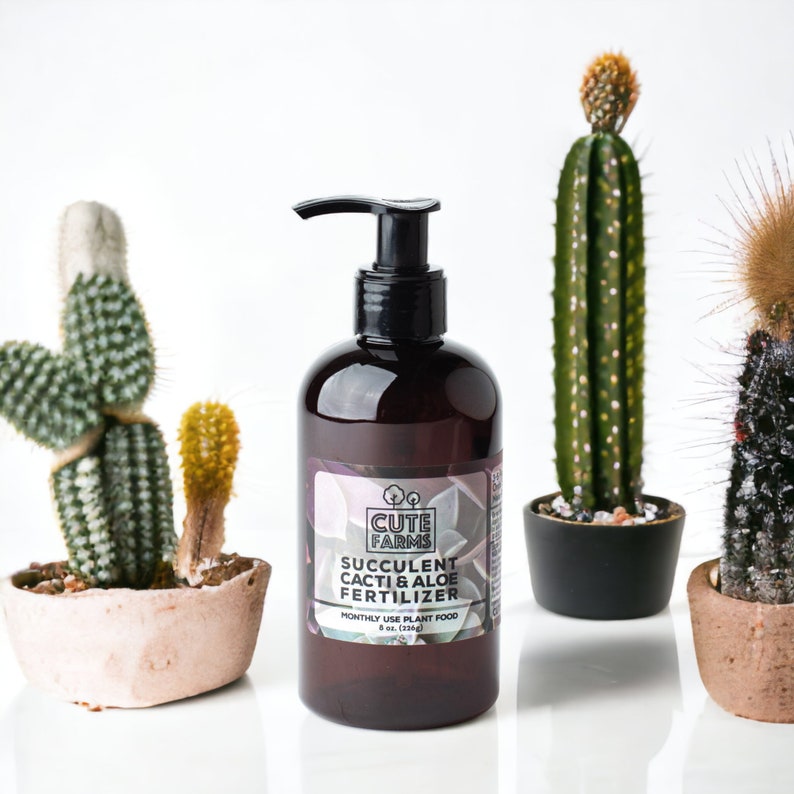 Succulent fertilizer available to purchase on Etsy.
Repotting
Echeveria 'Blue Prince' generally does not require frequent repotting. Repotting every two to three years or when the plant has outgrown its current container is usually sufficient. When repotting, choose a new pot that is slightly larger than the current one and use a well-draining succulent soil mix.
When you're rooting or transplanting your succulents and cacti, use SUPERthrive to help reduce the chance of transplant shock and grow a strong root system.
Propagation
Propagating Echeveria 'Blue Prince' can be done through various methods, including leaf cuttings, stem cuttings, and offsets (also known as "pups"). Leaf cuttings involve removing a healthy leaf from the plant, allowing it to callus for a few days, and then placing it on well-draining soil until roots and a new plant form. Stem cuttings can be taken from healthy stems, left to callus, and then planted in soil. Offsets, which are small new plants that grow from the base of the parent plant, can be gently separated and replanted.
Echeveria 'Blue Prince' Common Pests and Problems
Echeveria 'Blue Prince' is generally resistant to pests and diseases. However, it can occasionally attract common succulent pests such as mealybugs and aphids. These pests can be controlled by wiping the leaves with a cotton swab dipped in rubbing alcohol or by using a neem oil solution. Overwatering, underwatering, and poor drainage can lead to issues such as root rot or fungal diseases. Maintaining proper watering practices and providingadequate airflow around the plant can help prevent these problems.
Fix the pest problem on your succulents and cacti with these popular insecticides.
Echeveria 'Blue Prince' is a stunning succulent that adds beauty and elegance to any plant collection or garden. By following the care requirements outlined in this comprehensive guide, you can ensure the health and longevity of your 'Blue Prince' plant. Remember to provide it with the right amount of light, water sparingly, use well-draining soil, and protect it from extreme temperatures. With proper care, your Echeveria 'Blue Prince' will thrive and reward you with its striking blue-green foliage and occasional bursts of vibrant flowers.