The Crassula tetragona, commonly known as the 'Miniature Pine Tree,' is a unique and visually appealing succulent that has become increasingly popular among plant enthusiasts. This succulent, with its distinctive tree-like appearance, is known for its low-maintenance nature and ability to thrive in various environments. In this comprehensive care guide, we will explore everything you need to know about the Crassula tetragona, from its appearance and care requirements to propagation techniques and common problems.
Dig in!
Common Names
The Crassula tetragona is most commonly known as the 'Miniature Pine Tree' due to its resemblance to a small pine tree. It is also referred to as the 'Pine Tree Crassula' or 'Crassula Tetragona Pine Tree.'
Plant Description and Size
The Crassula tetragona 'Miniature Pine Tree' features a unique, tree-like growth habit, with multiple upright branches that resemble the branches of a pine tree. It typically grows up to 12 inches (30 cm) in height, and the branches are densely packed with triangular, green leaves. The leaves are tightly clustered along the stems, giving the plant a compact and bushy appearance.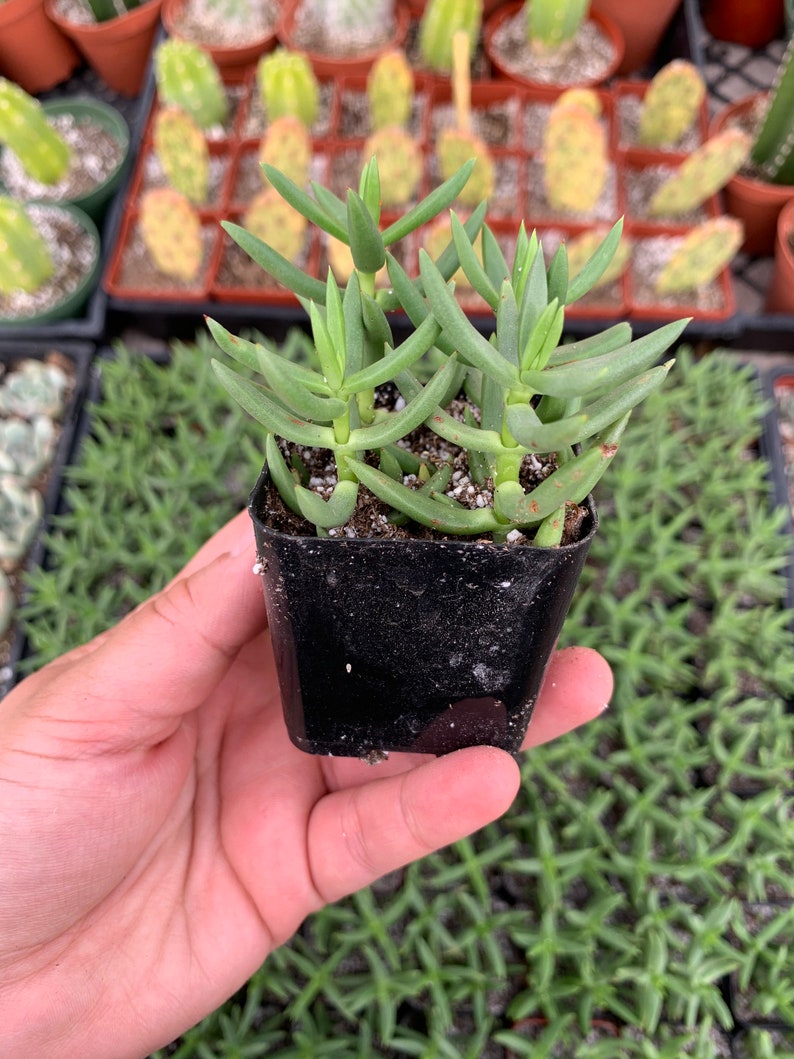 Source: Etsy
Flower Color and Blooming Season
The Crassula tetragona 'Miniature Pine Tree' produces small, star-shaped flowers that are typically white or pale pink in color. The flowers bloom in clusters at the ends of the branches during the late spring or early summer months.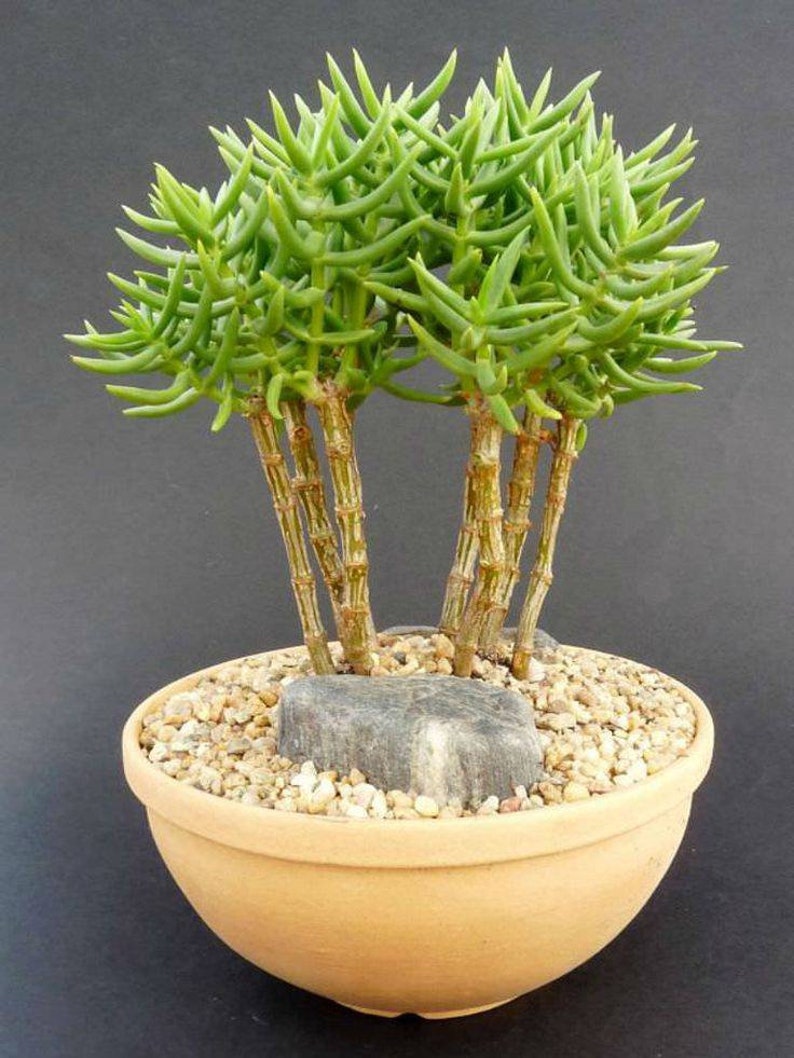 Source: Etsy
Crassula tetragona 'Miniature Pine Tree' Care Requirements
Light Requirements
The Crassula tetragona 'Miniature Pine Tree' thrives in bright, indirect light. It can tolerate some direct sunlight, but prolonged exposure to intense sunlight may cause the leaves to burn or turn yellow. Place the 'Miniature Pine Tree' near a south or west-facing window where it can receive bright light for a few hours each day.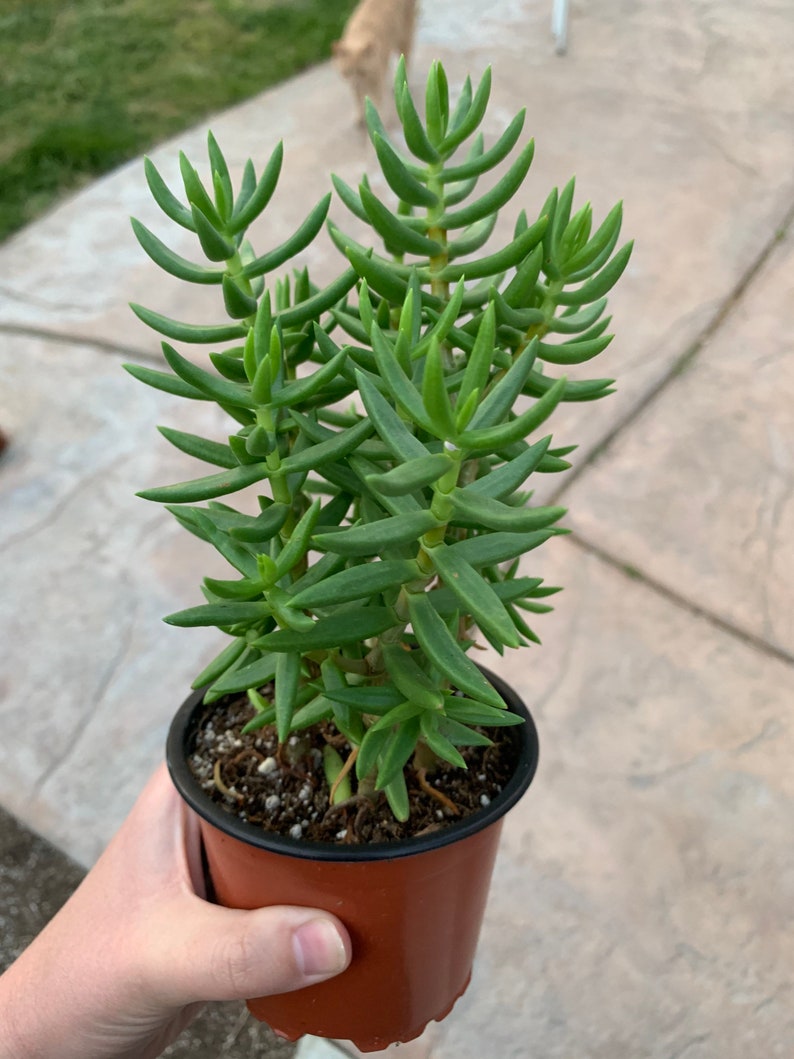 Source: Etsy
Watering
This succulent has typical water needs for a desert plant. Allow the soil to dry out completely between waterings, and then water thoroughly until water drains out of the bottom of the pot. Avoid overwatering, as it can lead to root rot. During the winter months, reduce watering frequency as the 'Miniature Pine Tree' goes into a semi dormant period.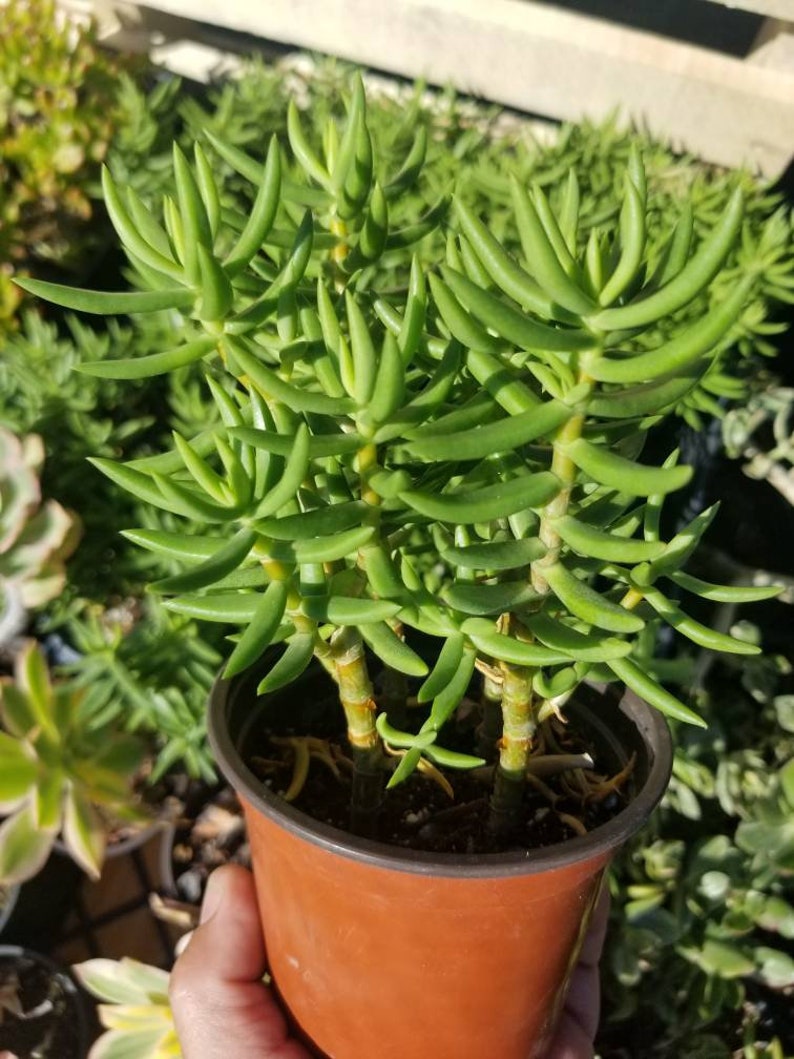 Source: Etsy
Soil
The Crassula tetragona prefers well-draining soil to prevent waterlogged roots. A mixture of cactus soil and perlite or pumice works well for 'Miniature Pine Tree'. This type of soil allows excess water to drain away quickly, preventing root rot.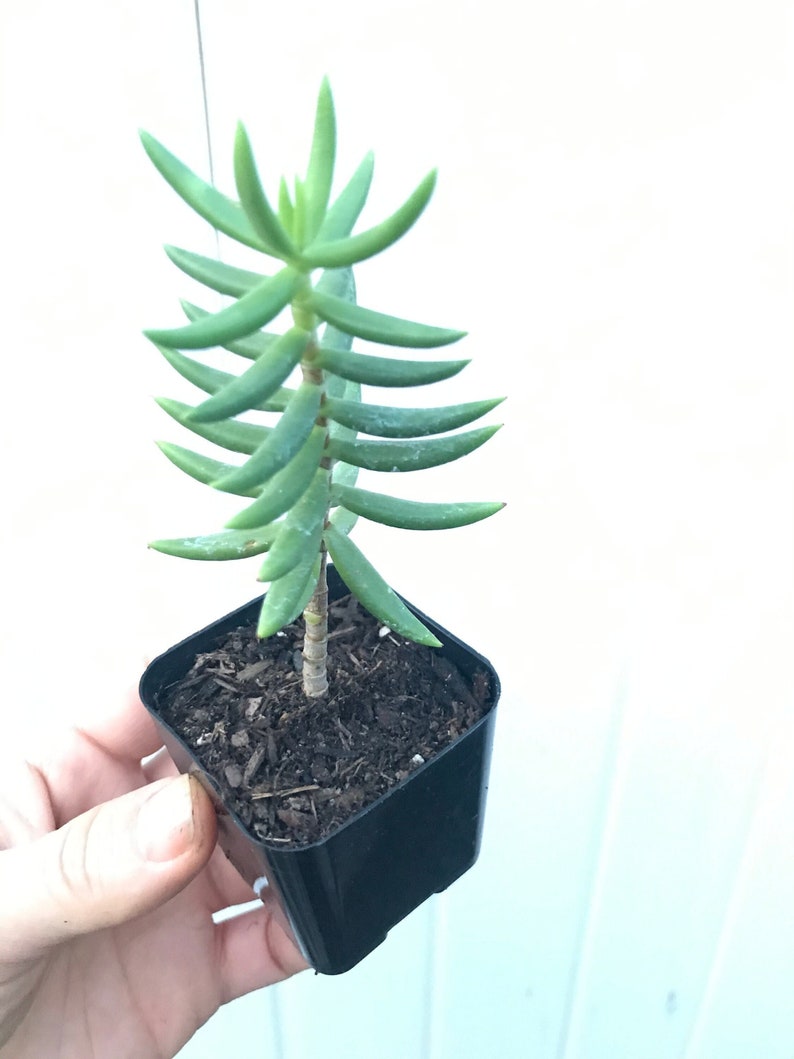 Source: Etsy
Temperature Tolerance
The Crassula tetragona can tolerate temperatures as low as 30°F (-1°C) but prefers temperatures between 50°F (10°C) and 75°F (24°C). It is important to protect the 'Miniature Pine Tree' from frost and extreme temperature fluctuations, as they can damage the leaves and stems.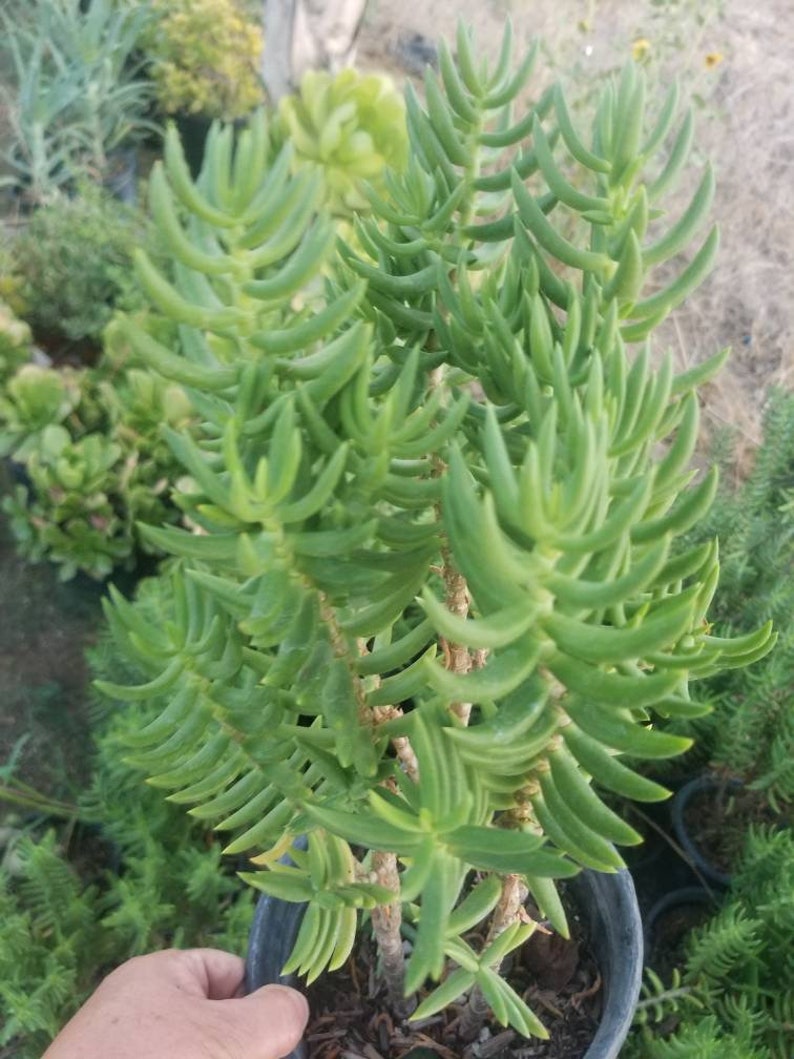 Source: Etsy
USDA Hardiness Zone
The ideal USDA hardiness zone for growing the Crassula tetragona outdoors is zones 9 to 11. In colder regions, it is best to grow 'Miniature Pine Tree' indoors or provide protection during winter months.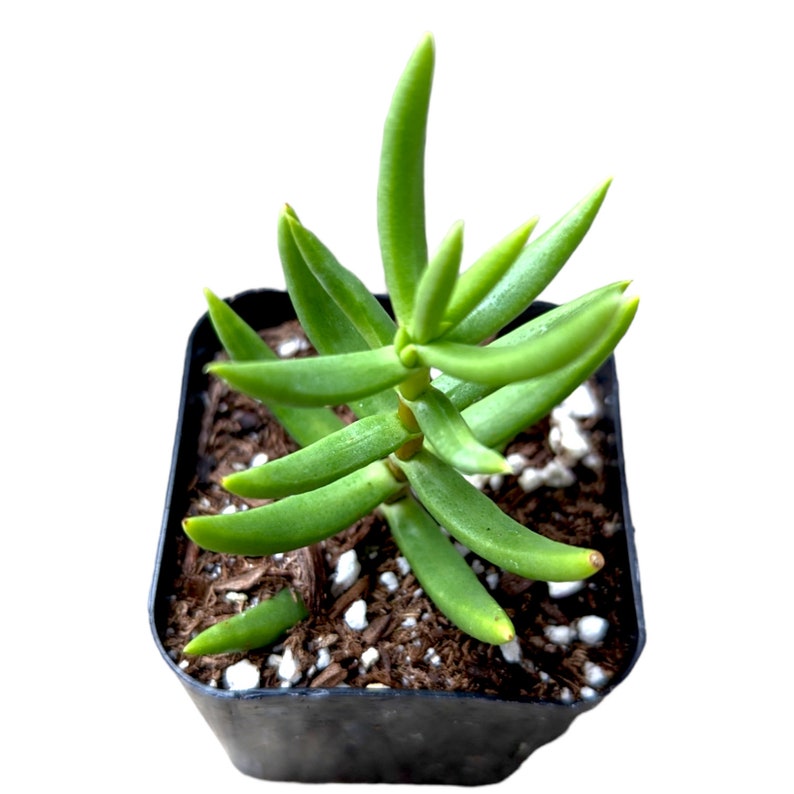 Source: Etsy
Fertilizer
Feed the Crassula tetragona with a balanced, water-soluble fertilizer diluted to half the recommended strength. Apply the fertilizer once a month during the growing season (spring and summer). Avoid fertilizing during the winter months when the 'Miniature Pine Tree' is dormant.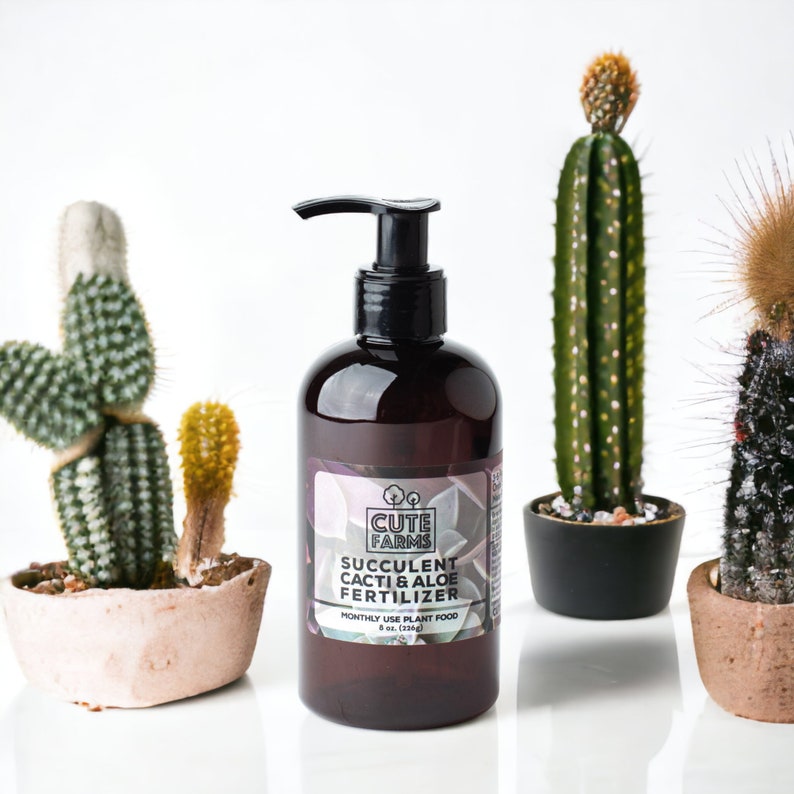 Succulent fertilizer available to purchase on Etsy.
Repotting
The Crassula tetragona does not require frequent repotting. Repot the plant only when it outgrows its current container or when the soil becomes compacted. Spring is the best time to repot 'Miniature Pine Tree', using a slightly larger pot with fresh well-draining soil.
When you're rooting or transplanting your succulents and cacti, use SUPERthrive to help reduce the chance of transplant shock and grow a strong root system.
Propagation
The easiest way to propagate the Crassula tetragona is through stem cuttings. Simply cut a healthy stem from the parent plant and allow the cut end to callus over for a few days. Then, place the cutting in well-draining soil and lightly mist the soil until it is slightly moist. Keep the cutting in a warm, bright location and water sparingly until new roots and growth appear.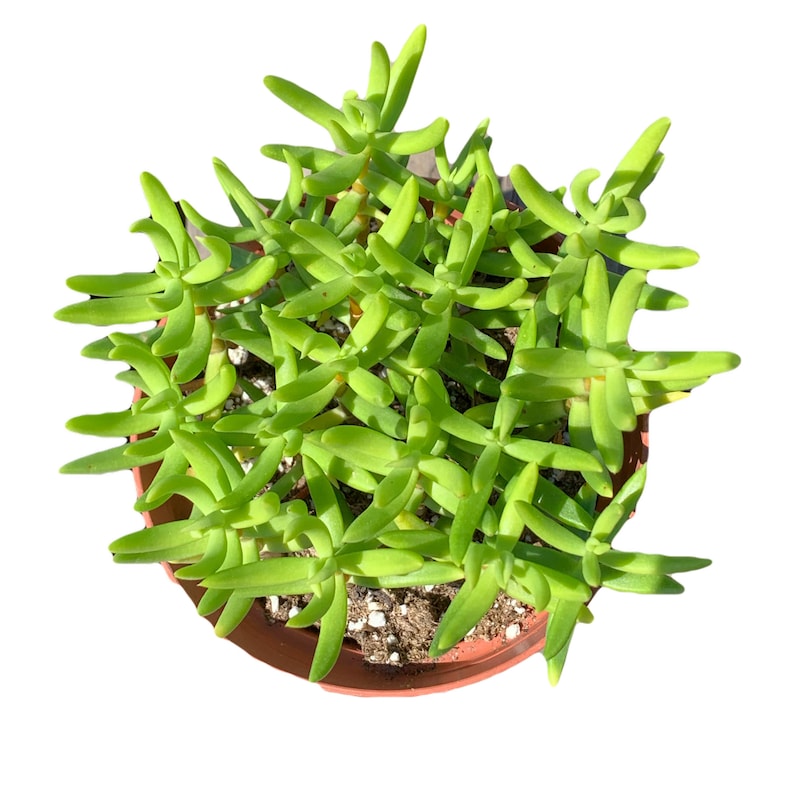 Source: Etsy
Pests and Pest Control
The Crassula tetragona is generally resistant to pests. However, it can occasionally attract mealybugs and spider mites. To control these pests, isolate the affected plant and use a cotton swab dipped in rubbing alcohol to remove the pests. Regularly inspect your 'Miniature Pine Tree' for signs of infestation and take prompt action to prevent the spread of pests.
Fix the pest problem on your succulents and cacti with these popular insecticides.
Common Problems and Solutions
Yellowing leaves: Yellowing leaves are often a sign of overwatering or insufficient light. Adjust your watering schedule and ensure the plant receives adequate light.
Leggy growth: If the Crassula tetragona becomes leggy or elongated, it is an indication of insufficient light. Move the plant to a brighter location to encourage compact growth.
Leaf drop: Leaf drop can occur due to overwatering, underwatering,or environmental stress. Check the watering habits and adjust accordingly. Ensure that the 'Miniature Pine Tree' is not exposed to extreme temperature fluctuations or drafts.
Source: Etsy
Crassula tetragona, also known as the 'Miniature Pine Tree,' is a fascinating succulent that adds a touch of uniqueness to any plant collection. With its tree-like growth habit and low-maintenance nature, it is an ideal choice for both beginner and experienced succulent enthusiasts. By providing the proper care, including adequate light, well-draining soil, and appropriate watering, you can enjoy a healthy and thriving Crassula tetragona 'Miniature Pine Tree' in your home or garden. Remember to keep an eye out for any signs of pests or common problems and take immediate action to ensure the well-being of your plant.
Source: Etsy